Stakeholder dialogue
GF maintains a continuous dialogue with its internal and external stakeholders to proactively recognize and resolve key issues. It promotes this ongoing exchange through a range of activities, events and initiatives.
Much of GF's business success relies on understanding the needs of its stakeholders. The following chapter lists these main stakeholder groups, their significance to GF and the formats through which it maintains this dialogue.
Employees
GF's more than 15'000 employees in 34 countries are crucial for the business's success, as GF can only make progress through their work, motivation, and commitment. They are GF's source of success and continually challenge the company to deliver the most sustainable solutions.
GF maintains a continuous dialogue with its employees and believes it is essential to engage with them in implementing the Strategy 2025. GF has therefore developed a framework for an even more positive and inclusive corporate culture. This is designed to support the achievement of the goals outlined in the strategy and unlock each employee's full potential and that of the entire organization. GF communicates the new values of the corporate culture to employees as part of the Culture Movement process. Via this initiative, GF will bring these values to life and integrate them into employees' daily work.
In addition, each division conducts employee satisfaction surveys. In 2022, GF is planning a group-wide survey that will cover all three divisions and will include questions regarding the Strategy 2025 and the Culture Movement.
More information in the chapter: Employee engagement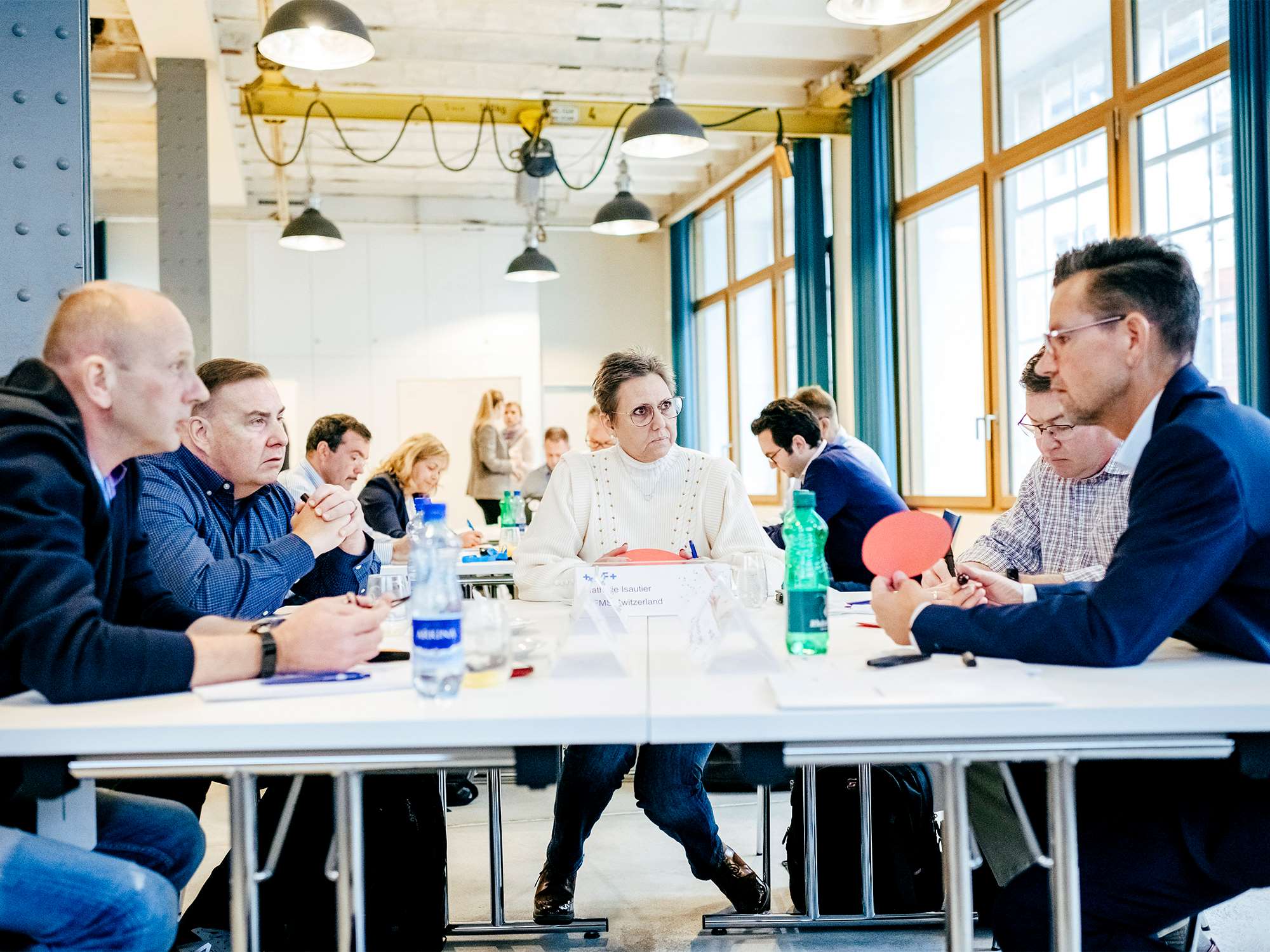 Customers
GF aims to deliver sustainable and innovative products, solutions and services that best meet its customers' needs. GF therefore continuously asks its customers for feedback and involves them in product development processes. For example, in key market segments, GF conducts sustainability workshops with its customers, such as on how to design sustainable products that reduce waste for end users. GF recognizes its customers as a clear source for innovations.
GF's product and solution specialists cultivate lasting customer loyalty by maintaining close working relationships. GF participates in trade fairs, organizes in-house and virtual events, and offers customers individually tailored training sessions.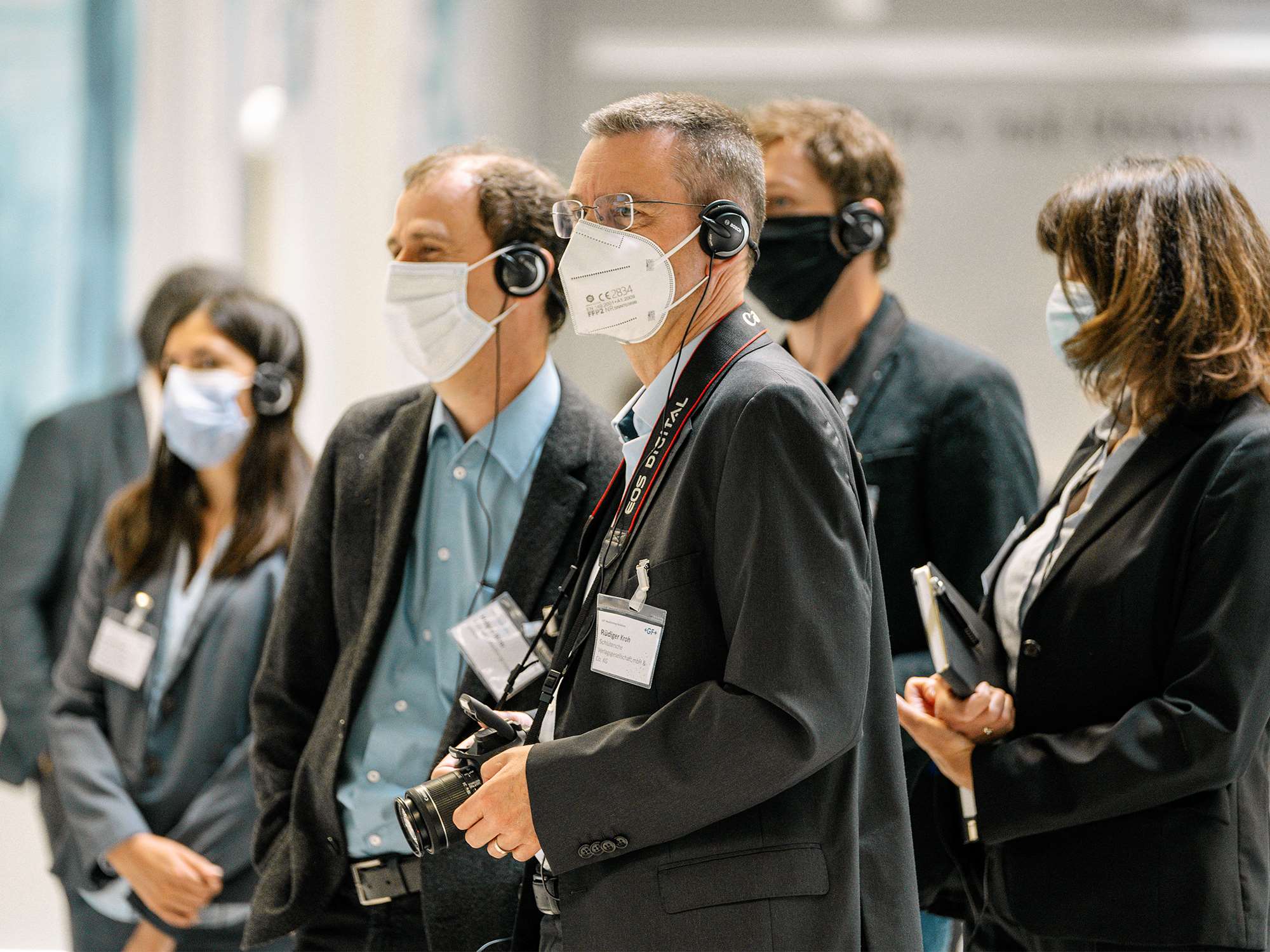 Investors
Sustainability, which covers areas such as climate change, greenhouse gas (GHG) emissions and their reduction potential, the circular economy, and diversity and inclusion, has become of key importance to GF's investors. It is therefore essential to maintain an active exchange with investors and transparently communicate all relevant financial and non-financial (ESG) information.
GF's CEO and CFO, its Head of Investor Relations & Sustainability, as well as the Chairman of the Board of Directors are in regular contact with investors – both in person and virtually – at roadshows, events, and meetings, including the GF Annual Shareholders' Meeting. They also maintain an active ESG dialogue with sustainability analysts and stewardship teams. In addition, GF's sustainability team responds to around 15 ESG rating agencies or questionnaires per year, which also helps investors to make informed decisions. In 2021, GF maintained its governance dialogue with its shareholders and proxy advisors. The Corporation held around 100 meetings with investors, representing more than one-third of the share capital. In addition, the Chairman of the Board led about 15 virtual and in-person meetings focusing on ESG matters. The Independent Lead Director and the Head of Investor Relations & Sustainability also participated in these meetings.
Suppliers
GF's successful long-term partnerships with its procurement and logistics partners are essential for business continuity. GF places great emphasis on ensuring they meet its own standards for sustainability and ethics and promote compliance with standards. GF views its suppliers as valuable partners in enhancing the environmental efficiency of its production equipment and minimizing the social and ecological risks along its value chain. In 2021, GF started a project with EcoVadis to extend the scope of supplier assessments and to improve its suppliers' commitment to sustainability.
GF also maintains regular contact with its suppliers through events such as trade fairs.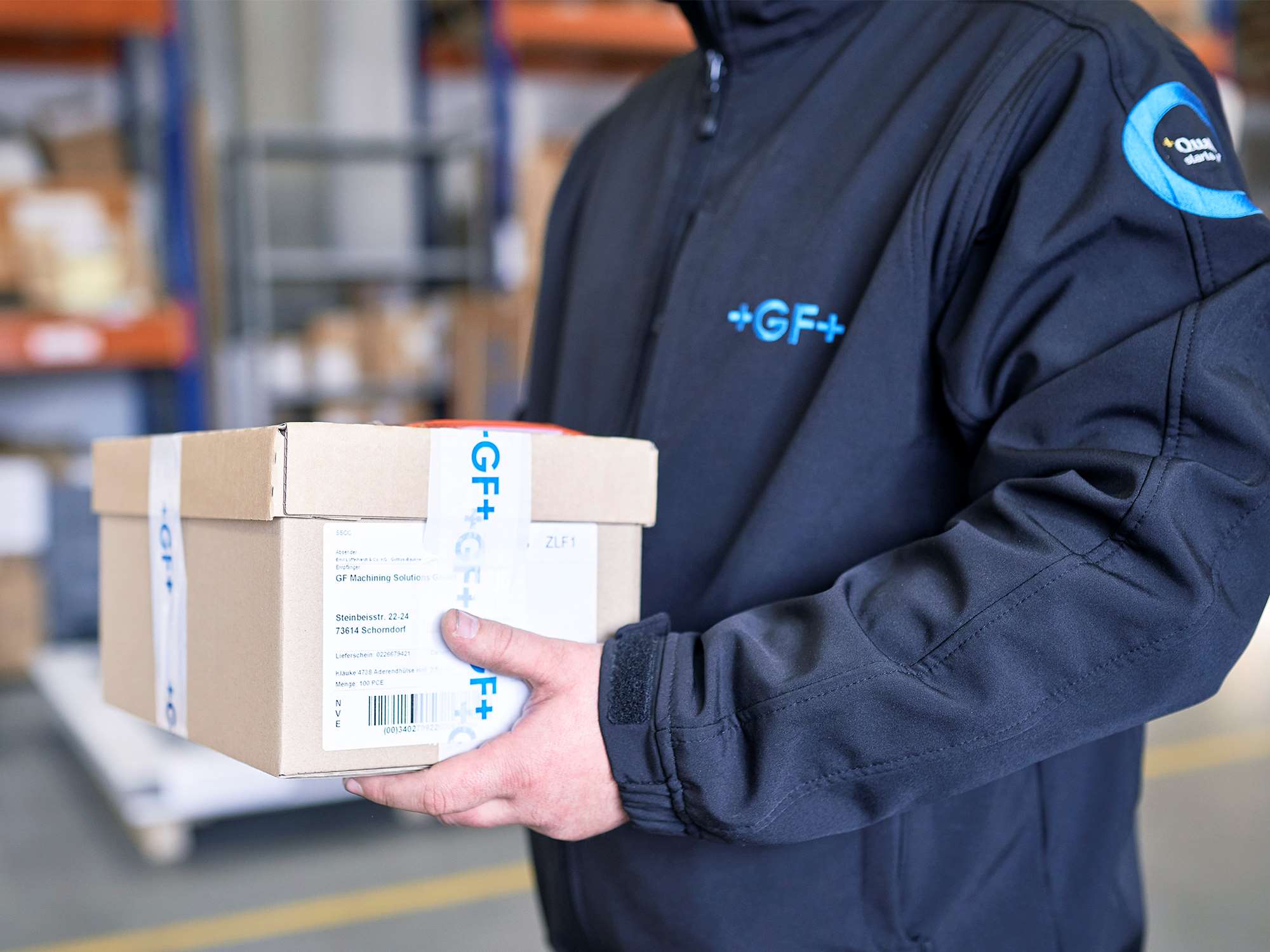 Universities and research institutes
GF maintains close relationships with many leading universities and research institutes. These partnerships are essential for GF in order to continue attracting well-trained employees and advancing its research and development activities. These collaborations take several different forms. For example, the Corporation offers internships and junior work opportunities to students at universities and technical institutes. It also partners with academic institutions on specific projects.
In 2021, GF collaborated with ETH Zurich to conduct research projects with students. During these projects, each GF division provided students with a real business case focusing on sustainability and operational excellence. The students were given three months to understand the case and develop possible solutions. The results of the students' work were presented in December 2021.
In the year under review, GF also established partnerships with several vocational colleges in Yangzhou (China). One of these is a cooperation with the Yangzhou Polytechnic Institute, which educates students in the field of mechatronics. GF conducts various activities as part of the collaboration, including webinars, site introductions and campus job fairs. In addition, GF also plans to implement a development program for technical trainees. These collaborations aim to contribute to the students' training and first steps into the job market, on the one hand, and to raise brand awareness and promote GF's company culture to attract skilled new employees on the other.
Furthermore, GF sets up regular workshops to exchange views on innovation trends with other universities, including the Universitatea din Pitești in Romania or the Montanuniversität Leobenin Austria.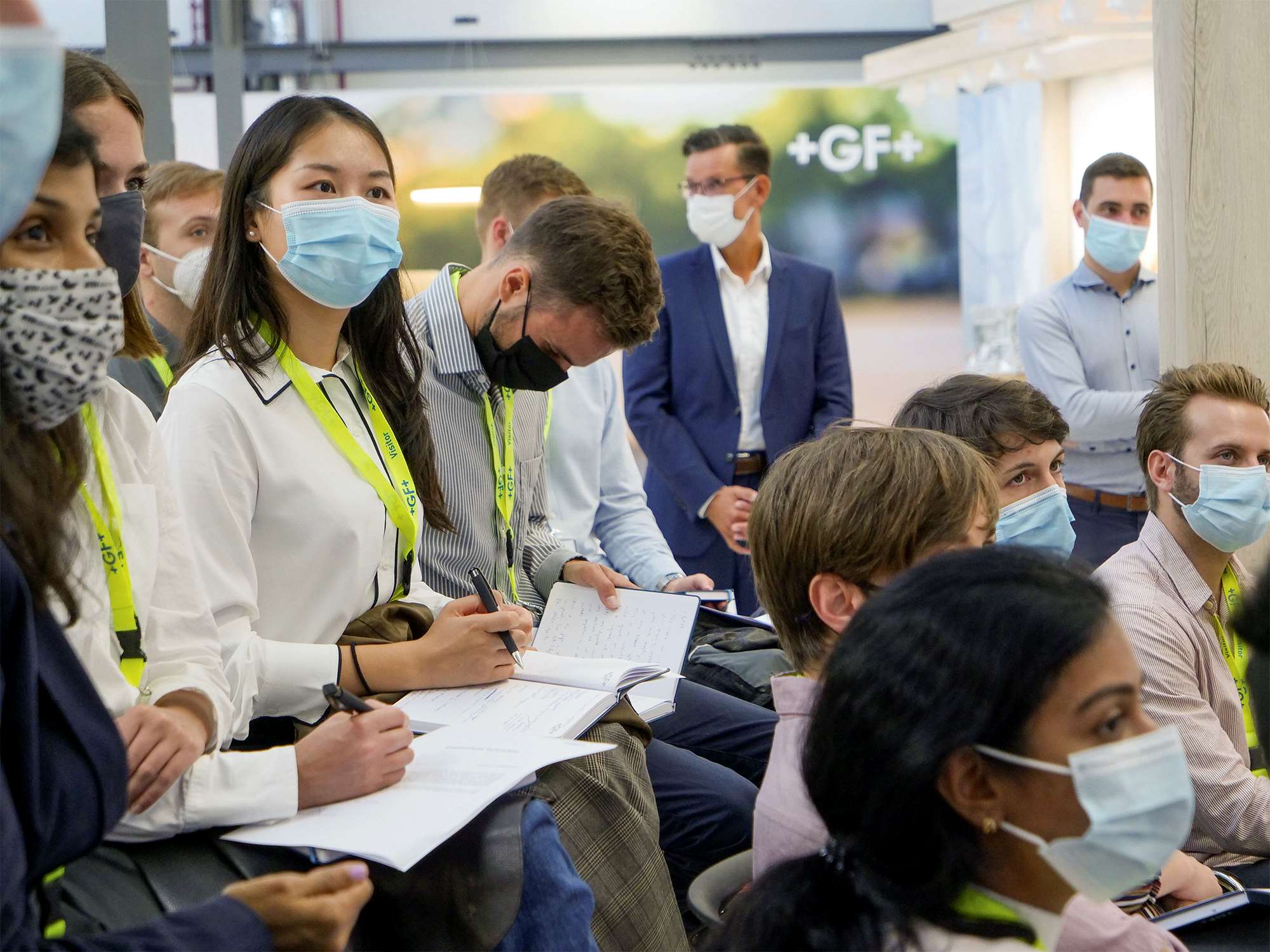 Regulators and industry associations
GF operates in many countries and jurisdictions and complies with all applicable laws and regulations. GF is a member of a number of chambers of commerce and is actively involved in various national and international industry associations and trade organizations.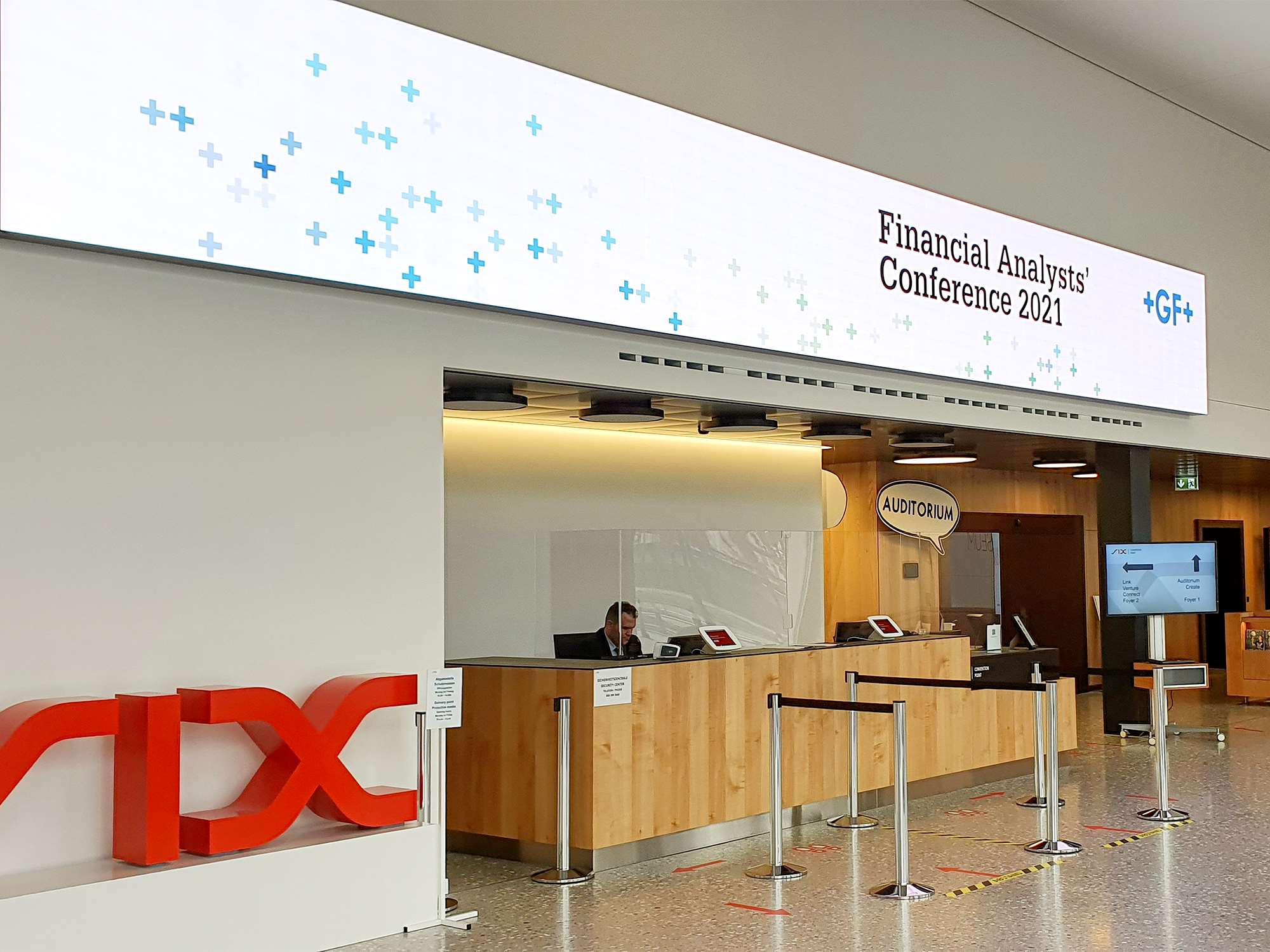 Communities and NGOs
GF supports and promotes cultural and social programs in its local communities. More generally, it aspires to enrich lives and create a positive overall impact. Within GF's corporate citizenship programs, which help to improve access to drinking water and education, the company also cooperates with many different NGOs.
GF's Clean Water Foundation supports projects focused on improving water filtration and distribution infrastructure in rural communities and hospitals. One of its main partners is Caritas Switzerland. In 2021, this partnership concluded phase III of a long-term project in Bolivia to improve access to clean and safe drinking water. In phase III, the partners installed 18 drinking water systems in 10 different communities to the direct benefit of over 700 families. GF has supported these projects with approximately CHF 500'000 in funds.
Another trusted partner of the foundation is Water Mission, a non-profit organization in the US. To support Water Mission's fight against the global water crisis, GF hosts global "Walk for Water" fundraisers. During these events, participants walk approximately 1.5 miles to the midway point holding empty buckets, which they must fill with dirty water and carry another 1.5 miles to the finish line. The walk allows participants to experience the same day-to-day challenge as the 2.2 billion people worldwide who live without access to safe drinking water. In 2021, GF Piping Systems hosted a "Walk for Water" event in Irvine, California (USA). Together with its sponsors, the 220 participants raised USD 150'000 for Water Mission. This effort alone will provide more than 6'000 people with clean water for the rest of their lives.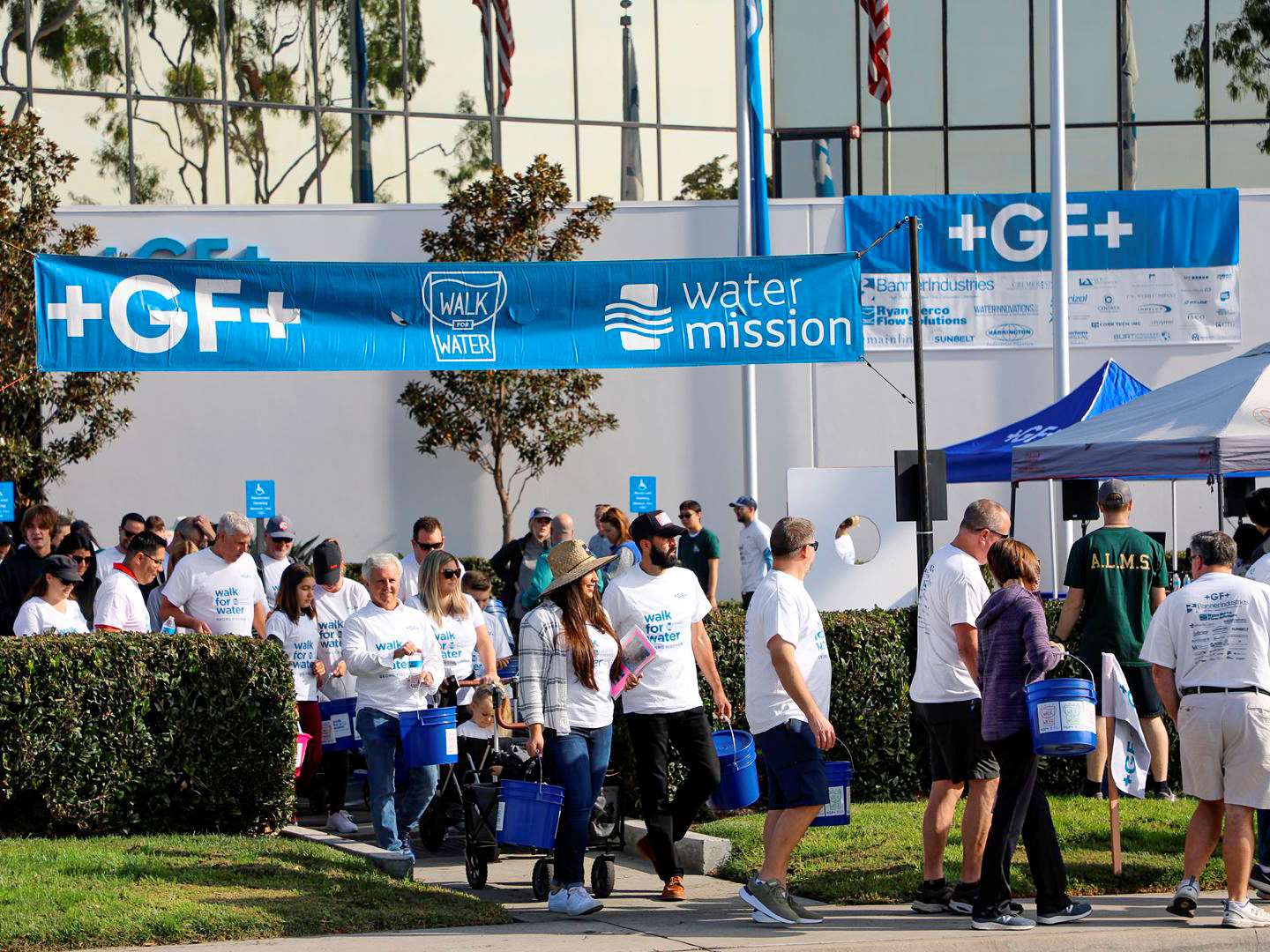 Media and the general public
GF is interested in creating transparency for the general public about its business activities. As a responsible corporate citizen, GF aims to provide all relevant stakeholders with equal and current information. Therefore, GF regularly publishes media releases on relevant topics such as full- and mid-year results, the development of new markets, product innovations, and acquisitions. GF also maintains an ongoing exchange of information with journalists. GF supplements its media activities with an active social media presence on channels including LinkedIn, Twitter, Facebook, YouTube, and Xing.