Dark Header Theme
Product portfolio
Product portfolio
A key aspect of GF's strategic efforts across its three divisions has been its transformation from a provider of products and systems to a provider offering integrated solutions.
GF's product portfolio is one of the main areas in which GF can create a positive environmental impact. Therefore, GF's stakeholders have identified "sustainable products and solutions" as one of the most material topics in GF's latest materiality assessment.
GF aims to support its customers with value-adding services over the entire life cycle of solutions provided. Therefore, GF has set a target in its Sustainability Framework 2025 to generate 70% of its sales by 2025 from products, systems or solutions that have social or environmental benefits. In progress towards this target, 60% of GF's sales in 2021 (2020: 58%) delivered either a social or environmental benefit. In addition, all three GF divisions are actively working to increase this number via their innovation efforts and the strategic alignment of their product portfolios.
GF Piping Systems
Strategy and solutions
GF Piping Systems is the leading flow solutions provider that enables the safe and sustainable transport of water and gas. With the belief that "everything is connected", sustainability continues to be a key value driver in three ways.
GF Piping Systems aims to:
Ensure its customers enjoy a consistent flow of water, gas or chemicals without safety issues, leakages or any other ecological consequences.

Deliver solutions that contribute to its customers' decarbonization goals relating to energy use and GHG emissions.

Support its customers' environmental efforts by increasing their efficiency during the installation and operation of GF's systems, compared with traditional alternatives. GF's systems are characterized by their long lifespans, and their sustainability criteria are proven by life cycle assessments.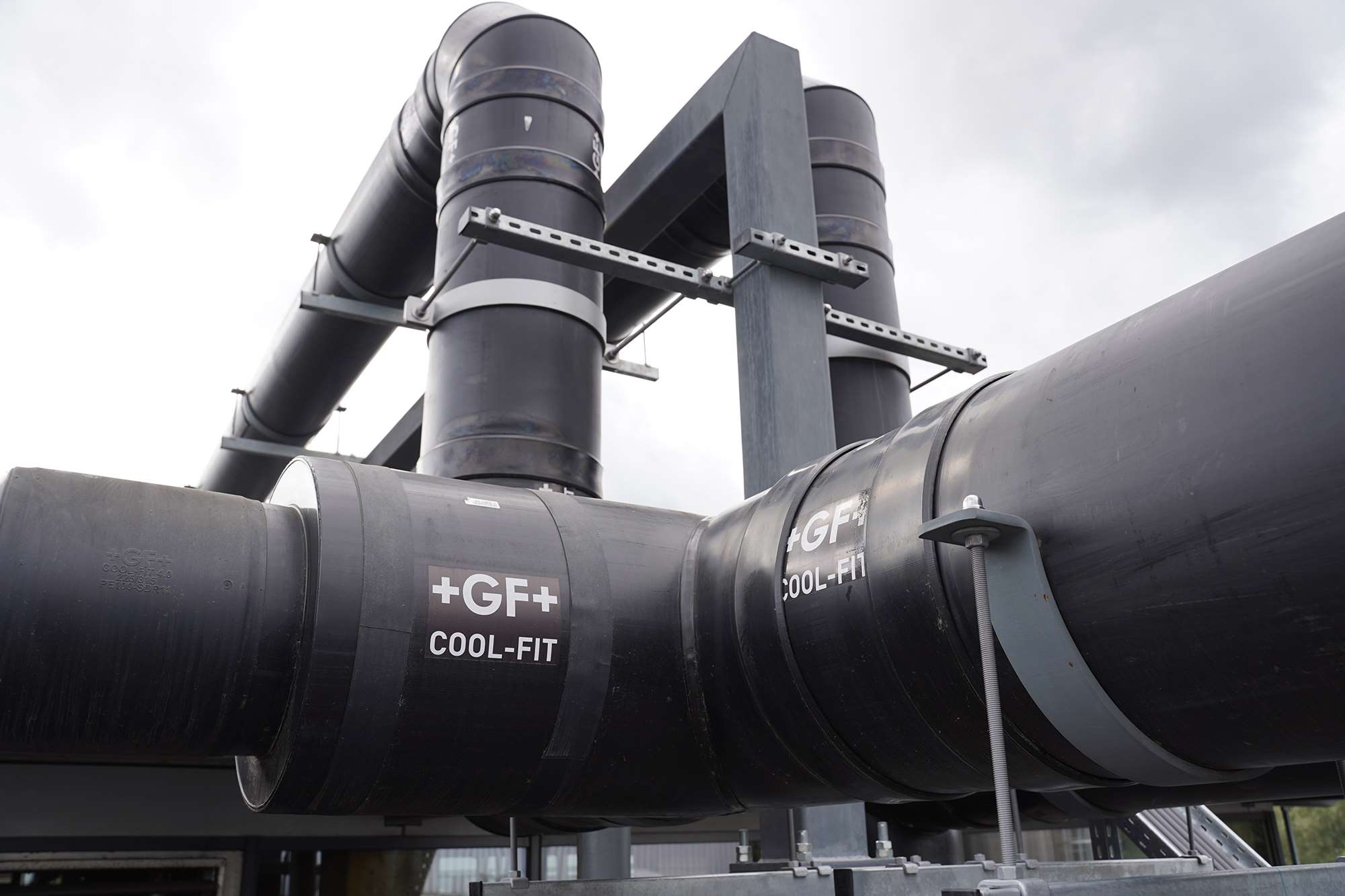 GF's Sustainability Framework 2025 is an important guideline for the division. Beyond the Framework's targets, one of GF Piping Systems commitments is that every innovation must provide an environmental benefit. To ensure this, GF Piping Systems implemented a sustainability assessment tool in mid-2021 that applies to all future innovation processes; both GF Casting Solutions and GF Machining solutions have also adopted this tool. In the same year, the division also established a sustainability business development team that supports initiatives in the innovation processes and throughout projects that cover the entire value chain. The team promotes initiatives regarding the circular economy, the generation of life cycle assessments and the creation of end-of-life solutions.
GF Piping Systems' innovative products and solutions help to address a variety of challenges:
Reducing waterborne Legionnaires' disease and ensuring drinking water installations meet the highest hygiene standards.

Helping to mitigate global drinking water losses due to leakages in aging infrastructure.

Creating solutions for the energy-intensive cooling process of the increasing number of data centers.

Contributing to the development of sustainable city infrastructure and the expanding green building sector.

Developing lighter, longer-lasting solutions that enable the marine industry to reduce GHG emissions and fuel consumption while increasing load capacity.
Innovations in 2021
In 2021, GF Piping Systems developed the Butterfly Valve 565 that optimizes piping systems built for water applications. The valve can be used in a wide range of applications, e.g., on ships, in desalination plants, in industrial and municipal wastewater treatment plants, as well as in swimming pools. The plastic valve is 60% lighter than conventional metal valves, thus reducing the energy and resources needed for transport and installation. Replacing 600 metal butterfly valves with new plastic butterfly valves in marine applications can save up to 10 tons in weight and significantly reduce CO2e emissions. The valve's high-quality plastics also protect it from corrosion and abrasion, guaranteeing reduced maintenance and a longer lifespan.
In addition, GF Piping Systems also developed a series of new pneumatic plastic actuators. The products are made of recyclable plastics and are corrosion-free, lighter and longer-lasting than metal actuators. The pneumatic valve's highly chemically resistant materials are designed for a variety of industries, including microelectronics, marine and chemical processing. The new product received the RedDot Design Award in 2021.
The introduction of the world's first pressure piping system made from bio-based PVC was another breakthrough innovation of GF Piping Systems in 2021. The sustainable PVC resin is made from a waste product of paper manufacturing and reduces production of carbon emissions by up to 90% compared to crude-oil-based PVC. GF Piping Systems has used bio-based PVC in pipes since October 2021 and will continue to increase its use in pressure piping.
In 2021, GF Piping Systems made significant contributions to the development and use of green hydrogen as a power source and the distribution of green hydrogen in gas networks. For example, GF supplied fittings, valves and pipes to a collaboration of the shipping industry's leading hydrogen propulsion system providers. After many years of research, these companies have designed a propulsion system based on hydrogen fuel cells. As a key supplier, GF was involved from the beginning of the project. The new propulsion technology will be applied in the first hydrogen-powered cargo ship that will be launched by a prominent Dutch shipbuilder in 2023. In this project, a total of four ships will be equipped with this new clean propulsion technology. The development holds great promise for the Dutch inland shipping sector, as it must reach zero emissions by 2050.
In Denmark, GF delivered PVC-U adaptor fittings to a leading electrolyzer provider for the production of green hydrogen. GF also supplied Netze BW with hydrogen-ready products such as couplings for a pilot project in Germany. In this trial, the utility disconnected the city of Oehringen from its surrounding infrastructure and is now supplying the town with a gas mixture containing up to 30% hydrogen.
New partnership
GF Piping Systems is working with other companies and associations to promote environmental initiatives. For example, in early 2021, the division became a Sustainable Digital Infrastructure Alliance (SDIA) partner. This association of companies, individuals and governments highlights the importance of improving the efficiency of digital infrastructure facilities to reduce the global carbon footprint.
As a prime example, data centers consumed about 205 terawatt-hours (TWh) of electricity in 2018, up 6% from 2010 (Masanet et al., in Science). That is slightly more electricity than what Denmark used in 2018 (Our World in Data). Energy Innovation, an energy and climate change policy think tank, estimated that 43% of that is used for cooling. Therefore, any small efficiency gains can have dramatic environmental benefits. The SDIA is researching the development of advanced cooling systems using liquid- and air-cooling technologies to improve the overall efficiency of data centers. The cooling systems will connect GF Piping Systems' technology to district heating and cooling grids to recover energy from the heat generated by IT equipment. As a global leader in flow solutions, GF Piping Systems' high-quality and value-adding piping technologies will play a key role in this project's success.
GF Casting Solutions
Strategy and solutions
GF Casting Solutions' business model is to empower sustainable mobility by developing optimally suited materials and technologies in addition to cutting-edge production processes. Its most successful projects have resulted in casting components that are lighter and more cost-effective.
These innovations provide distinct advantages to GF customers, particularly those in the automotive sector. For the division's customers, the development of alternative drive systems plays a critical role in reducing greenhouse gas emissions. Using fewer and lighter components lowers a vehicle's weight and is one of the most effective ways to reduce its fuel or energy consumption and emissions during its lifespan.
In its Strategy 2025, GF committed to growing within the electric mobility segment and in the renewable energy sector. Together with the Sustainability Framework 2025, the Strategy 2025 is an important guideline that aligns GF Casting Solutions' innovation process and its material and product development with ecological criteria. The ultimate goal is to produce sustainable products in a socially or environmentally conscious way. In this regard, GF Casting Solutions will strengthen its product development and sales organization to foster even earlier customer involvement and drive the innovation of products with social and environmental benefits. In addition, new developments in the innovation process are only approved when they provide additional sustainability value. Strategic attention will be given in particular to e-mobility drive components and structural parts.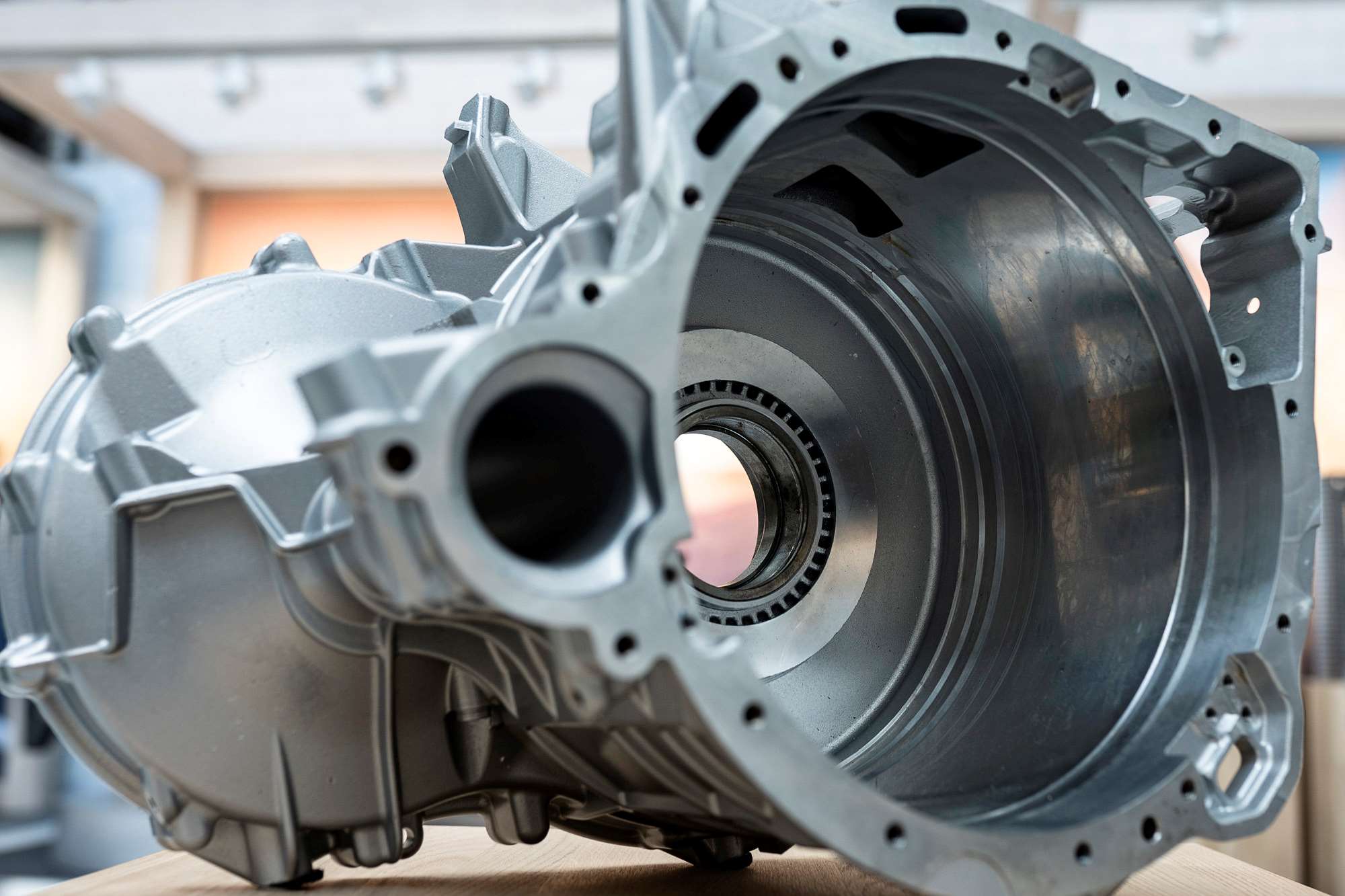 Innovations in 2021
GF Casting Solutions partnered with Microsoft Switzerland in an innovation project using artificial intelligence. The joint effort aimed to establish a broad, data-driven understanding of GF's casting processes, which often involve many complex steps. The project seeks to optimize the ramp-up phase of casting production and ultimately maximize the quality of components while minimizing their associated energy consumption. In 2021, the project was successfully tested at GF Casting Solutions' Altenmarkt (Austria) site. Through these tests, the project has passed the proof-of-concept phase and reached the final stage of the division's innovation process. It has been proven that AI can help to reduce waste material, costs, energy and time-to-market. In the next step, the project will extend to other plants.
GF Machining Solutions
Strategy and solutions
GF Machining Solutions aims to advance energy-efficient and clean manufacturing. Its vision is to set the standard for intelligent machining solutions and become a trusted partner of the global precision machining industry throughout all phases of a machine's lifecycle. It focuses on product reliability to prevent unplanned interruptions and help its customers significantly improve the efficiency of their manufacturing processes. Some critical areas of focus include increasing machine automation, digitalization, connectivity and intelligence.
GF's Strategy 2025 and the Sustainability Framework 2025 are important guidelines for this division on the road towards sustainability development. In addition to transferring skills to the operators, the division has two primary goals: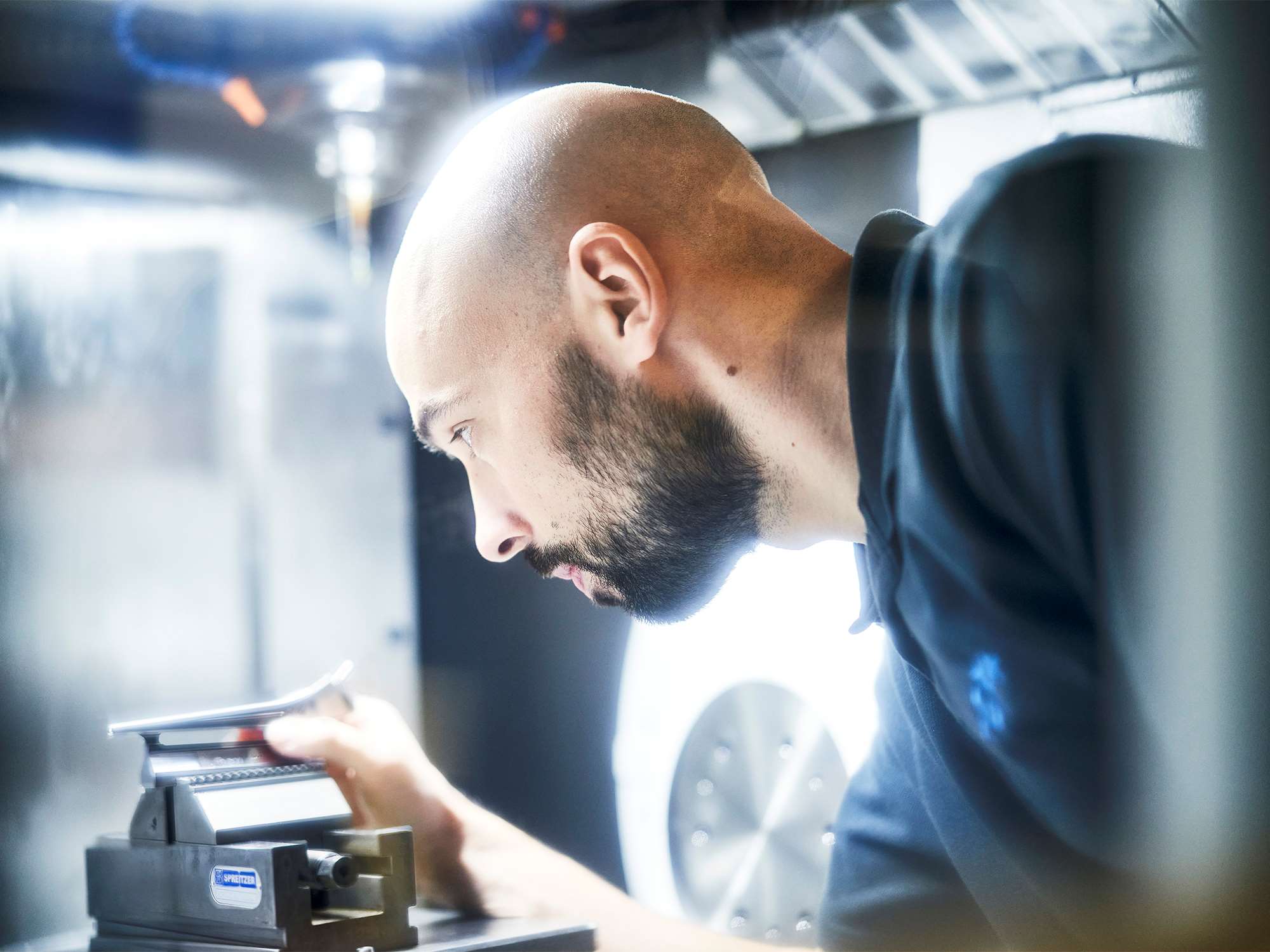 To ensure resource efficiency throughout the machine's life cycle:

The division works closely with its customers from the pre-sales production concept phase to the end of the equipment's life cycle, at which point the used systems can be refurbished. GF's introduction of remote access solutions enables it to offer faster response times and remote maintenance capabilities.

To reduce the energy consumption of machines:

In addition to using state-of-the-art components designed for maximum energy efficiency, GF Machining Solutions continually develops solutions that enable customers to reduce their energy consumption when producing components. Many of GF's machine models have energy management solutions (such as the Econowatt feature) which allow systems to go into stand-by mode during idle periods while keeping auxiliary equipment activated that are needed to maintain required levels of machine precision. In addition, GF Machining Solutions plays a critical role in the company's ambitions to reduce its CO2e emissions, particularly the Scope 3 category. The division's goal is to minimize each machine's carbon footprint throughout its life cycle, from the purchase of raw materials to the end of its usable life. The primary focus is on the machine's usage phase, which is the largest contributor during its life cycle. To reduce carbon emissions, GF Machining Solutions adopted the sustainability radar – shared across all divisions – which enables sustainability footprint assessment in the new product development scheme. The tool allows GF to both measure and proactively manage its carbon footprint. GF Machining Solutions will review its implementation at several key milestones along the development process.
Innovations in 2021
In 2021, GF Machining Solutions took another step forward in reducing the environmental footprint of its products. In collaboration with a partner, the division designed a new spool, used in electric discharge machines (EDMs) to keep a constant supply of wire during the production process. This new spool can be produced with significantly less plastic. In addition, this spool is made of fully recyclable white polystyrene plastic, allowing new spools to be created from used ones. In the past, such spools were made from thermoplastic polymer that is less suitable for recycling compared to polystyrene. The colored flanges are produced from the same type of plastic and are also recyclable. By choosing a mono-material design and simplifying the recycling process, GF Machining Solutions is making circular economy principles a reality. In addition, while a strong focus was placed on sustainability, there were no compromises in the spool's design and performance. Since September 2021, the spool has been used in the production of certified premium wires.
GF Machining Solutions has also developed a new software algorithm that reduces resource consumption in wire electrical discharge machining (EDM). EDM is a metal machining process in which material is removed from a metal workpiece using electrical discharges. Wire EDM discharges the electrified current via a taut thin wire. Using this new software algorithm, customers with GF's Intelligent Spark Protection System in place have greater control over the wear of the wire. The algorithm detects the wear of the wire and can reduce its running speed based on the processing conditions. As a result, wire consumption is significantly reduced.