Letter to our stakeholders:
Good progress in first year of Sustainability Framework 2025
Dear stakeholders,
GF remains steadfast in its vision to become a sustainability and innovation leader providing superior customer value – be it by enabling the safe and sustainable transport of water and gas, empowering sustainable mobility, or advancing energy-efficient and clean manufacturing. In addition to focusing on its own sustainability impact, the company also supports customers on their own sustainability journey. In 2021, products and solutions with social or environmental benefits to GF customers or their users generated 60% of sales. The success stories from its three divisions show how GF's focus on sustainability-driven market segments is paying off.
The company has made good progress on some of the other targets in its Sustainability Framework 2025:1 30% of newly appointed managers in 2021 were women; CO2e emissions fell by 17% compared to the base year 2019; 34% of GF's procurement spend goes to suppliers who fulfil a comprehensive set of sustainability criteria. To decouple resource consumption from growth, the company started to identify business opportunities using the circular economy approach.
During the year under review, GF launched several initiatives, including the development of comprehensive science-based targets covering scope 1, 2 and 3 emissions. GF used the Greenhouse Gas Protocol Corporate Standard to calculate its scope 3 GHG emissions, which the company does not directly control but indirectly affects through its value chain.
As part of the Annual Report 2021, GF published an extensive report2 according to the requirements of the Task Force of Climate-related Financial Disclosure (TCFD). This reports details the company's exposure to physical risks and identifies several transition risks and opportunities to transition to a low-carbon economy.
The Board of Directors' Sustainability Committee and the Corporate Sustainability Council continue to drive sustainability to new heights. The Sustainability Committee oversees the comprehensive set of environmental, social and governance (ESG) objectives in the Executive Committee's annual performance evaluation. In November, the Board took a week-long deep dive into sustainability as part of its visit to US customers and GF facilities; it confirmed the measures and initiatives to meet the company's sustainability goals by 2025.
All GF employees contributed substantially to the successful implementation of the company's strategy and its sustainability approach. We thank them once more for their dedication.
I invite you to read more about these and other topics in the Sustainability Report 2021 for a complete view of all our activities.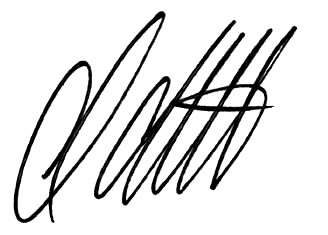 Andreas Müller
CEO