Dark Header Theme
Health and safety
Workplace health and safety
For GF, the health and safety of its employees is of the highest priority. The company's stakeholders support this view and have rated the topic "safety and well-being at work" as being of material importance.
In 2021, GF continued its efforts to foster and maintain a safety culture with the ultimate goal of having zero workplace accidents. The Sustainability Framework 2025 is an important guideline that will help the company achieve this target. In the framework, GF sets itself the goal to reduce its accident rate by at least 30% relative to the previous three-year average (i.e., 2018–2020). The accident rate includes accidents involving GF employees as well as leased personnel.31
Detailed information on GF's effort to reach its Sustainability Framework's goals can be found in this chapter under the heading Safety indicators.
In 2021, GF's health and safety priority was to systematically ensure its offices and facilities had the equipment and procedures necessary to prevent the spread of COVID-19.
COVID-19 response management
In 2021, GF continued to guide and coordinate its COVID-19 response. GF established in addition to local crisis teams a global pandemic team consisting of the Executive Committee, the Corporate Risk Manager, as well as and HR and communication managers from corporate headquarters and the divisions. The committee initiates specific measures and supports implementation by unit-level management.

GF's safety precautions ensured safe workplaces for employees who continued working in plants, laboratories, and offices. The measures included split teams, offering COVID-19 tests, conducting hygiene and mental health training, and providing a range of personal protective equipment (PPE).

GF also established a company-wide reporting system to build a database of internal COVID-19-related cases.
GF Safety Standards
The GF Standards for Occupational Health and Safety provide a comprehensive description of all of GF's health and safety requirements. These standards apply to all facilities and GF employees worldwide, as well as to temporary workers and visitors. The topics include organizational measures as well as detailed expectations for technical and personnel measures to be in place at GF locations. The latter describe the detailed safety requirements for a wide range of issues, including, but not limited to, buildings and premises, machinery and tools, maintenance, transportation and storage, work with a risk of falling, PPE, hazardous substances, ergonomics and health protection, business trips, visits to customers and driving to work. The standards, which were approved by the GF Executive Committee in 2014, were updated and revised in 2019. The document is available in the nine languages of GF's major production facilities.
The GF Standards for Occupational Health and Safety require the safety management processes of GF's production sites to be certified to ISO 45001. At year-end 2021, the health and safety management processes of around 80% of GF's production sites were certified to OHSAS 18001 or ISO 45001.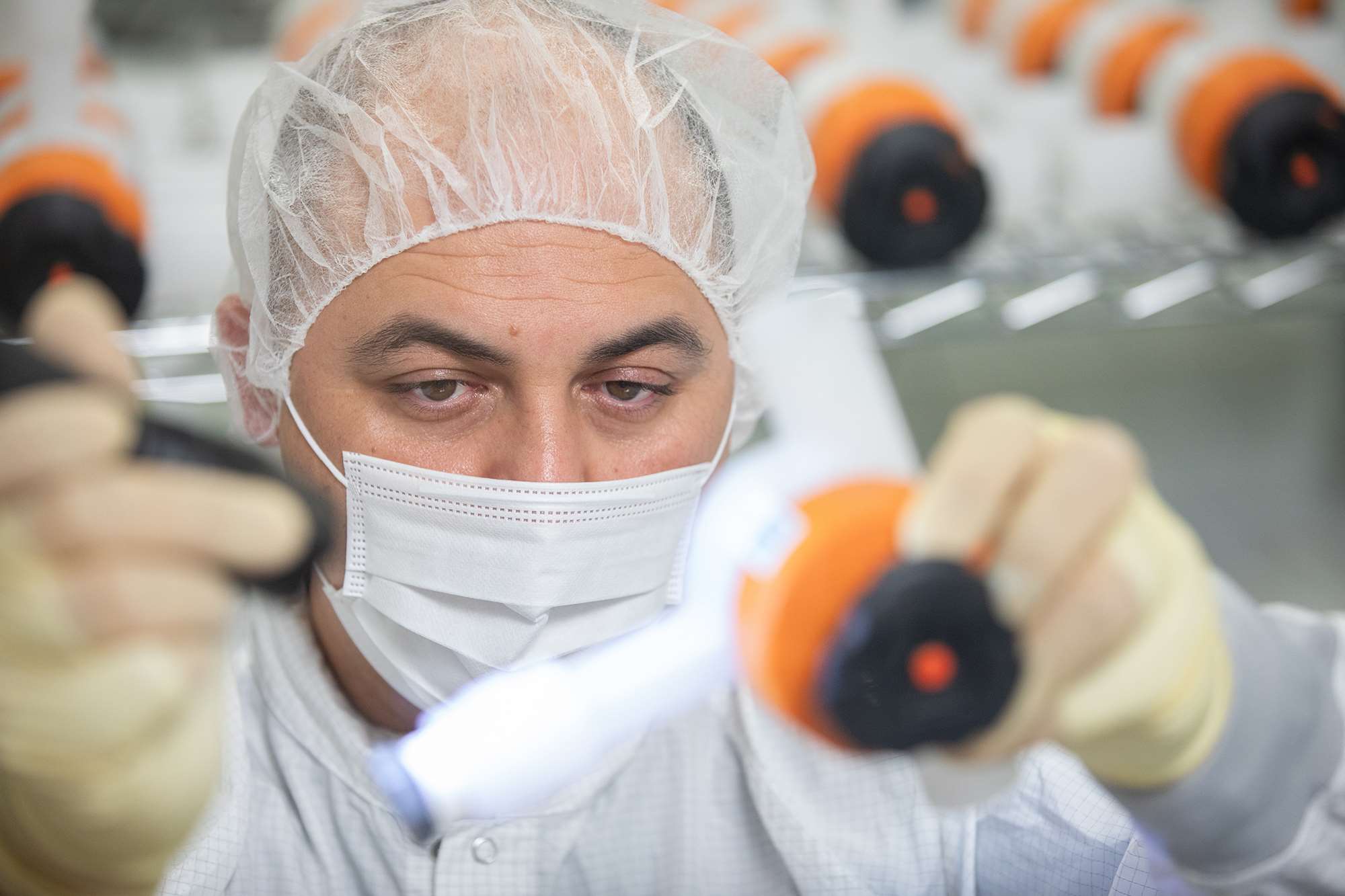 In addition, since 2015, GF has conducted annual cross-facility safety audits – performed at the divisional level between the operations of each location to ensure the effectiveness of their safety measures. In 2021, due to pandemic-related travel restrictions, cross-facility audits could only be partially completed. Where cross-facility audits were not possible, the facilities conducted internal audits.
In GF Piping Systems, safety audits were realized at 22 facilities worldwide. In GF Casting Solutions, six of its 13 facilities were audited in cross-facility safety audits in 2021, covering main manufacturing plants in Europe, China and the United States. In GF Machining Solutions, safety audits were conducted at all facilities in 2021. In one of the eight facilities of GF Machining Solutions, a cross-facility safety audit could be completed. In all divisions, the findings were summarized and presented to the division management.
Reducing the risk of accidents
Even with strict health and safety measures in place, some accidents still occur. Consequently, GF's Sustainability Framework 2025 includes a goal to reduce the accident rate by 30% relative to the previous three-year average. The accident rate includes those involving GF employees as well as leased personnel.
GF aims to achieve the target of the Sustainability Framework mainly by:
re-launching the cross-divisional Zero Risk campaign under the new slogan "Be Aware – Be Safe"

identifying hazards and assessing the related risks

systematically analysing accidents and near misses
Communication and training
Ongoing training is a key component of a robust safety culture. GF trains its employees, contractors, and visitors on health and safety topics via the "Zero Risk"/ "Be Aware – Be Safe campaign. The initiative is in place since 2015 and is a core part of GF's safety culture and communications. It encompasses communication measures on the divisional and company levels to reinforce safety awareness.
In June 2021, GF Piping Systems re-launched the safety campaign raising awareness about unsafe situations, implementing new safety procedures and exchanging global best practices. The campaign's launch also included a variety of new measures, including the implementation of the Stop Work Directive (following the example of GF Machining Solutions) and safety walks. The Stop Working Directive encourages employees who perceive a potentially hazardous situation to stop working and notify their supervisor immediately. As a further step, in 2021, the division developed a stop-work card the size and format of a business card in 13 different languages, which it will distribute as part of the 2022 safety campaign. In addition, GF Piping Systems started to internally publish monthly accident reports in 2021 to update employees on the development of occupational safety. The division also organized employee safety training sessions and strengthened awareness of the topic by creating a monthly safety recommendation.
Some of GF Piping Systems' sites have already implemented highly successful measures as part of the "Be Aware – Be Safe" campaign. For example, an Australian site offered online safety training for its employees, with topics such as "COVID-19 safety at work" and "working from home". In the Netherlands, one site conducted periodic medical health checks for all employees in 2021, regularly informed employees about the new safety campaign and held two evacuation training courses.
GF Casting Solutions launched a global Safety Campaign Core Team in 2021, building on previous "Zero Risk" campaigns and embracing new aspects on work safety in the Zero Risk- toolbox. GF Casting Solutions monthly sustainability call with all plant environment, health and safety (EHS) representatives to share best practices, and align on health and safety measures.
In the second half of 2021, GF Machining Solutions prepared the safety campaign for launch in January 2022. Additionally, GF will concentrate its efforts on developing specific measures that will help reduce the most common recurring accidents (such as finger and foot injuries).
Improving safety through hazard and risk identification
The identification of hazards is crucial for ensuring safe workplaces. GF sites perform a risk assessment by using different methods according to local law. A GF company classifies its activities by risk and the availability of recognized methods to avoid that risk. The result is documented, and the defined protective measures and safety rules are summarized as operating instructions. These instructions are made clear to all affected employees and displayed at workstations. In addition, the operating instructions are available for all employees at any time. After a near-miss or an accident, the hazard identification is reviewed and, if necessary, updated. The head of the department, together with the safety manager and the managers responsible regularly monitor the implementation of technical and practical safety measures and identifies improvements.
Health and safety committees are in place at GF facilities. They meet on a regular basis and integrate employees' feedback.
A process called Safety Stand Down at GF Piping Systems' site in Irwindale (USA) provides a hands-on example of how the employees are integrated into the process of achieving a safe work environment. On a quarterly basis, the facility's Environment, Health & Safety team reviews GF's safety materials and guidance and assesses various risky situations, behaviors, and best practices with the employees exposed to such risks. In this process, employees have the chance to report on any activity that could cause health or safety issues. Their feedback is recorded and analyzed.
In addition, GF Piping Systems' sites in the Americas started 2021 by implementing the SAFE (Safety Assessments for Effectiveness) tool. The purpose of the tool is to measure the effectiveness of each site's safety management systems by evaluating the activities and the programs in place. The outcome of the analysis is then used to create site-specific targets and objectives while proactively flagging areas of improvement.
Accident reporting and future prevention
Despite these comprehensive measures, accidents still occur in an industrial setting such as GF's operations. In such cases, the accident, its root cause and any corrective measures taken must be reported within three days of the accident by means of a company-wide accident reporting tool. Accident reporting and analysis help GF gauge the effectiveness of its safety initiatives and procedures. In 2021, reporting was expanded to include near-misses, their root-cause analysis, and any preventive measures implemented. Each division's health and safety specialist provide an accident and near-miss report to divisional management and the location's safety teams to ensure knowledge sharing between the facilities and to help prevent future accidents. The systematic analysis of near misses is a key measure to reduce the accident rate according to the Sustainability Framework. In addition, information on health and safety is included in the monthly reports provided to the Board of Directors since 2019. This reflects the high priority GF places on safety.
Safety indicators
In its Sustainability Framework 2025, GF sets the goal to reduce its accident rate by at least 30%, using the previous three-year average of 9.2 (from 2018–2020) as a baseline. The average is a lost-time injury frequency rate (LTIFR) figure, representing the number of incidents per one million hours worked. The accident rate includes accidents involving GF employees and leased personnel.
2021 was the sixth year in a row that GF's companies had zero fatalities. However, despite GF's efforts, the accident rate increased to 10.2 in 2021. In total numbers, this means an increase from 202 accidents in 2020 to 301 accidents in 2021.
However, a review of the figures (338 accidents) from 2019 indicates that the number of accidents in 2020 was particularly low. This decrease was mainly due to reduced working hours and temporary site closures in the first half of 2020 as a result of COVID-19. In addition, after returning to their workplaces, some employees might have been less sensitized to the risks related to their daily work.
Accidents involving leased personnel account for about 14% of GF's total accidents, whereas the remaining 86% involve GF employees.
Most of the accidents happened in production and processing areas, which resulted in finger and foot injuries. During the year under review, 19 severe accidents32 occurred. This represents 6% of total injuries.
Number of accidents among GF employees
Accident rate as lost time injury frequency rate (LTIFR)
per million hours worked
Share of accidents, GF employees and leased personnel, 2021
In %
Safety awards
In recent years, GF's divisions have received numerous awards for their outstanding safety efforts. For instance, GF Piping Systems' sites in the United States were recognized by EHS Today to be among the safest nationwide in 2020. In addition, the North Carolina Department of Labor awarded GF Linamar (USA) with the Silver Safety Award. The company's health and safety management is considered to be among the best in the country.
Employee well-being
Besides the high priority GF places on workplace safety, it also pays particular attention to promoting the overall health and well-being of its employees. This is crucial for retaining current employees, attracting new ones and, thus, ensuring GF's continued success.
Promotion of worker health
GF takes a variety of measures to promote and improve the health of its employees. For example, the division GF Machining Solutions encourages its employees to participate in sport and fitness classes by offering discounted gym rates.
GF Piping Systems also offers various workshops and classes at GF's headquarters in Schaffhausen to promote its employees' health. For example, the campaign "Gsund@life" creates mental and physical health plans for GF employees. In addition, the division runs workshops on maintaining a healthy work-life balance and covers the costs of yoga and Pilates classes. Other GF Piping Systems sites are also taking measures to promote the health of their employees. For example, in 2021, the site in Shawnee (USA) held a wellness fair that helped to identify employees with health issues and arrange immediate medical attention for them.
31
Leased personnel is personnel from temporary employment agencies that joins the company on very short notice and supports GF for a defined timeframe.
32
A severe accident is defined as an incident requiring medical treatment and at least 24 hours of hospitalization. This definition aligns the different global standards of a severe accident.