GF PIPING SYSTEMS – SUCCESS STORY
Driving clean energy forward
Carbon emissions continue to rise, driving the urgent need for more sustainable forms of power generation as well. What if we could harness an unlimited source of clean energy that lies directly beneath our feet?

SaltPower is doing just that and has partnered with GF Piping Systems to produce CO2-free electricity through a uniquely natural process: osmosis.
About SaltPower and GF
SaltPower was founded in 2015 by Danish engineer, inventor and businessman Jørgen Mads Clausen. The company develops innovative and scalable clean energy production technology through osmosis, a process that combines fresh water and salt water to produce electricity. After several years of R&D, SaltPower recently sold its first commercial system and is now planning to scale production throughout Europe.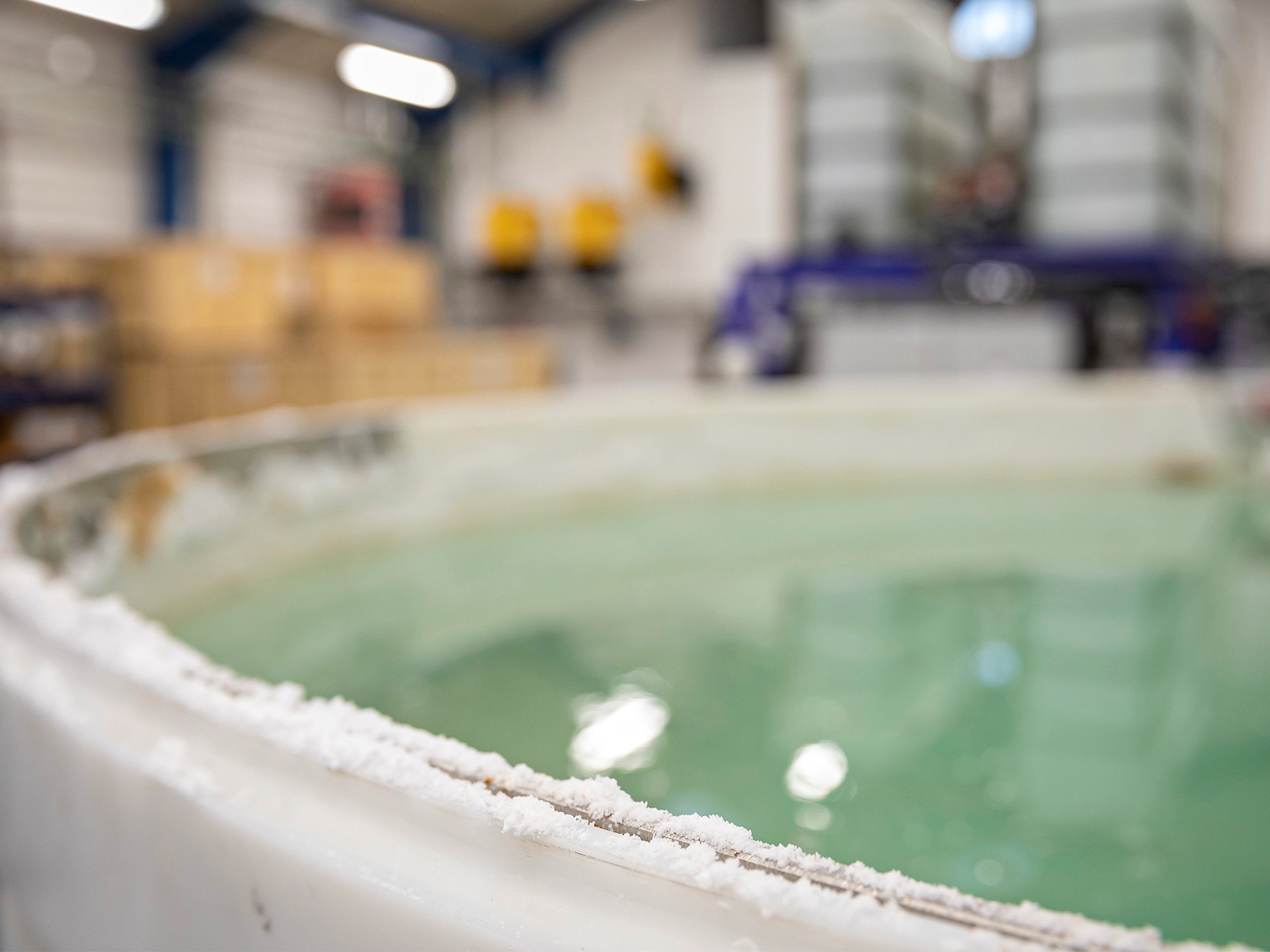 In 2021, global CO2 emissions from energy combustion and industrial processes hit an all-time high of 36.3 gigatonnes (Gt), up 6% from the year before. This reflects the upswing in the economy after the economic slowdown of 2020 due to the COVID-19 pandemic.33
SaltPower is a Danish start-up taking an innovative approach to the problem of global warming. Its unique system uses salt water – one of the world's most abundant resources – to create emission-free energy through the power of osmosis.
While designing its initial prototype, SaltPower needed more sustainable and longer-lasting alternatives to traditional steel pipes. Having previously collaborated with GF on a project with Semco Maritime, SaltPower engaged GF Piping Systems as an official supply partner. "GF believed in our business model from the very beginning and supported us in our pioneering work even as a start-up," says SaltPower CEO Lars Storm Pedersen. "GF's advanced piping components and focus on sustainability have been decisive in making our pilot projects so successful."
As an industry area sales manager at GF Piping Systems, Michael Adamsen supports OEM (original equipment manufacturer) customers and others. He manages comfort and process cooling projects and has led the SaltPower collaboration since 2017.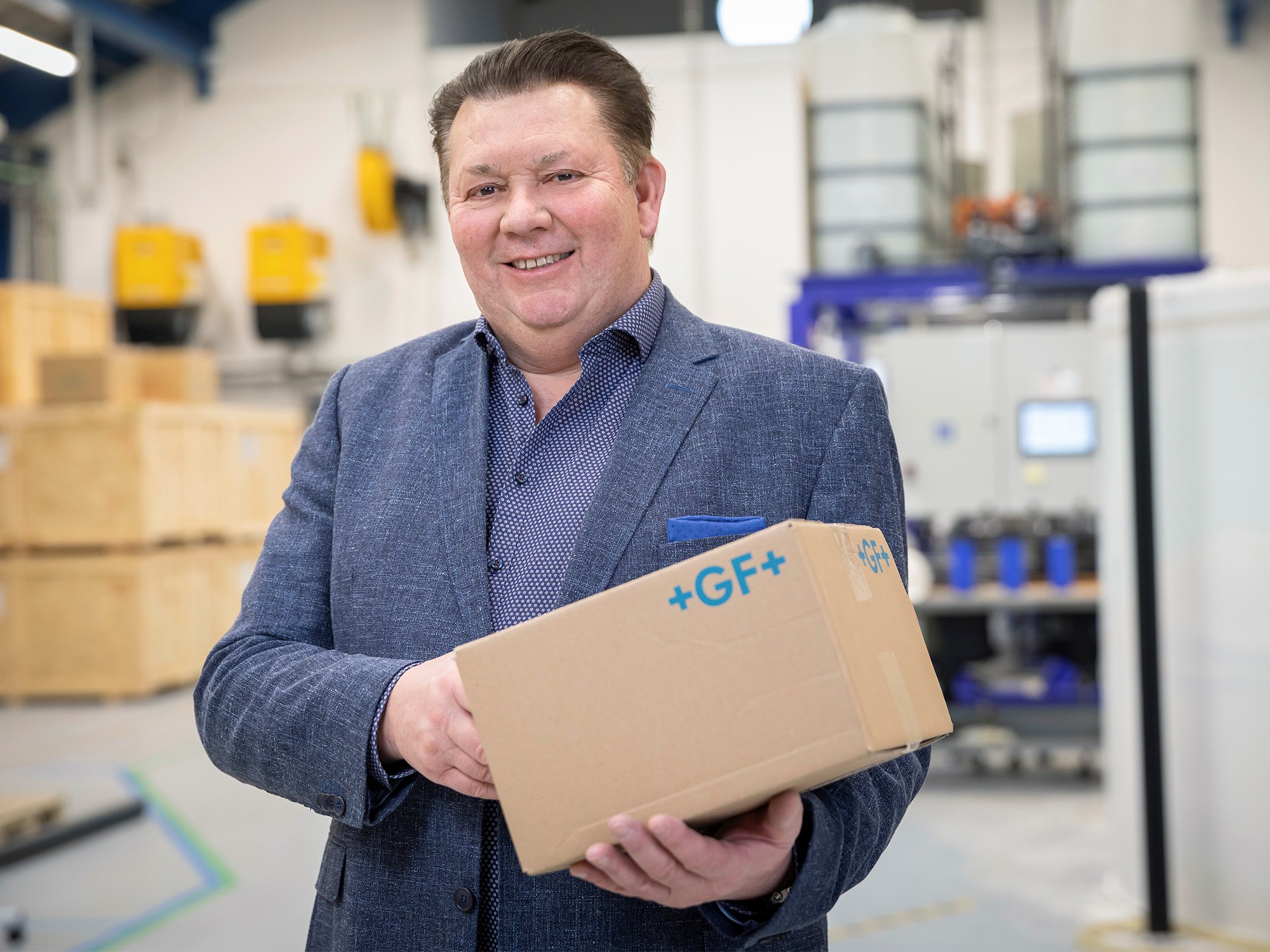 Lars Storm Pedersen is CEO of SaltPower and holds a PhD in chemical engineering from the Technical University of Denmark. An energy sector veteran, he was previously Vice Chairman of Dansk Miljøteknologi and held several leading roles at Haldor Topsoe.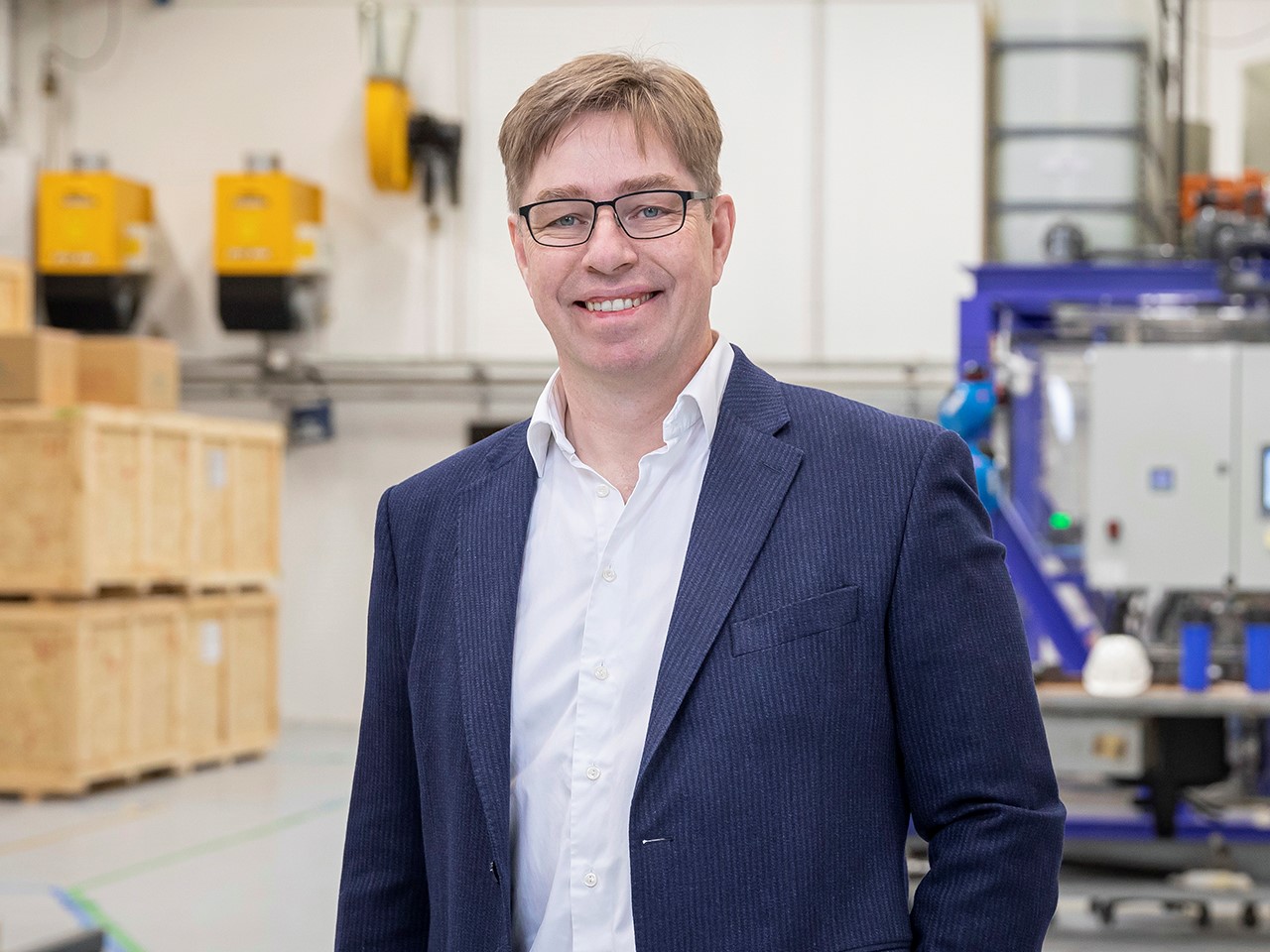 Using salt to create renewable energy
SaltPower uses the natural process of osmosis to generate 100% emission-free electricity. Its system pumps fresh water and salt water through tanks separated by a membrane full of tiny pores through which only water can pass. Seeking a natural balance, the fresh water automatically moves through the membrane and mixes with the salt water to equalize the salinity levels. This controlled water transfer creates a build-up of pressure that powers a turbine and generates 24/7 clean electricity. The system's only by-product is salt water, making it a sustainable energy solution for companies that produce or consume large volumes of salt.
A successful and rewarding partnership
SaltPower is currently using GF's components to deliver its first full-scale system. GF supplies plastic PVC piping along with fittings, ball valves and sensors used in the pumping chambers that combine the two water sources. Michael Adamsen from GF Piping Systems, who has been leading the SaltPower collaboration since 2017, says the change from steel to plastic pipes delivers a host of unique benefits. "GF's plastic pipes are unaffected by salinity and will last up to 25 years, which is five times longer than steel equivalents. PVC pipes also have a much smaller carbon footprint than steel, meaning they lower costs, conserve resources and significantly reduce lifetime emissions."
SaltPower's systems are rated at 100 kilowatts and measure just 6x15 meters. The company says it can also achieve larger capacities by connecting multiple systems together, providing clean baseload power for facilities of all sizes.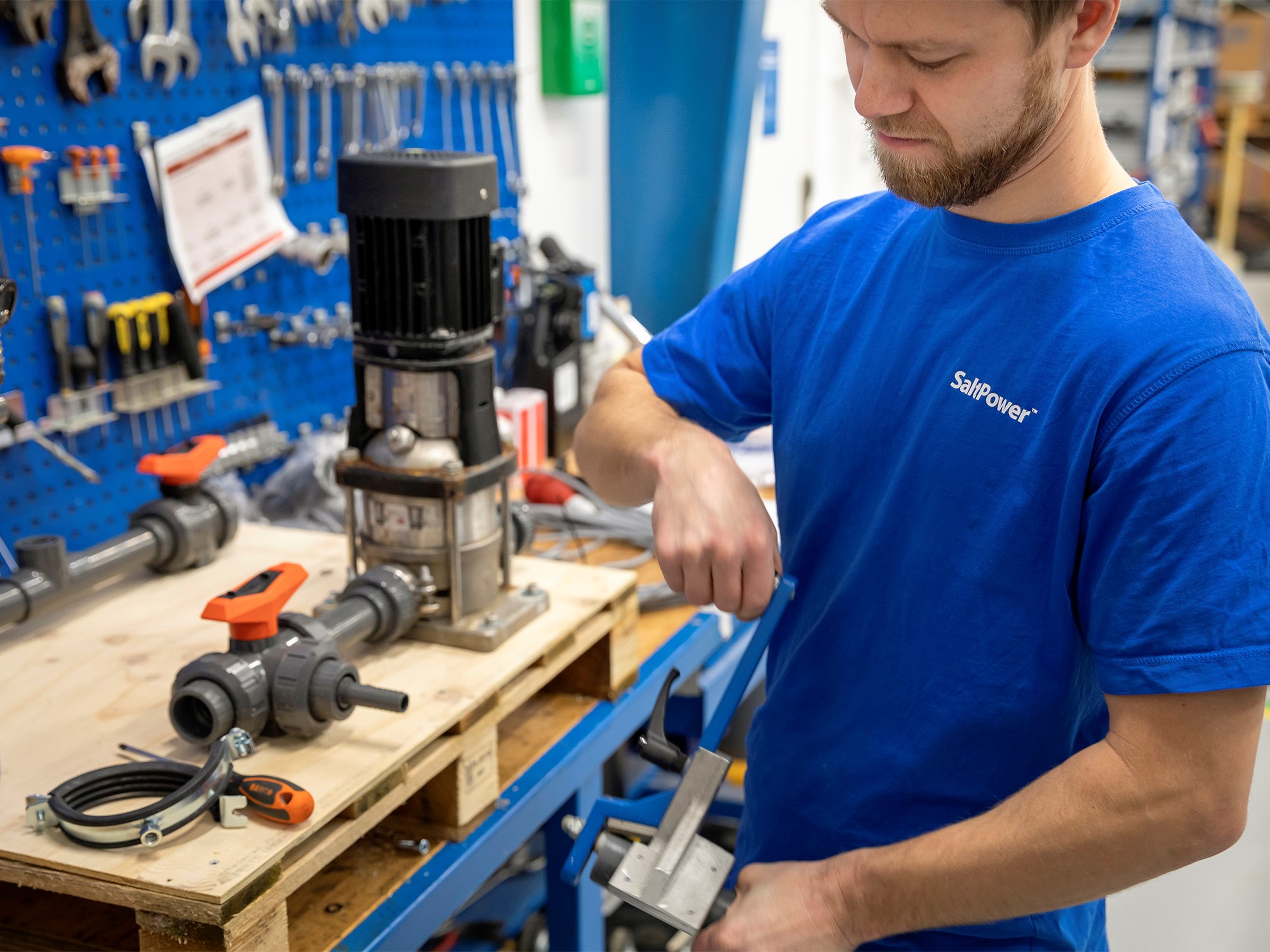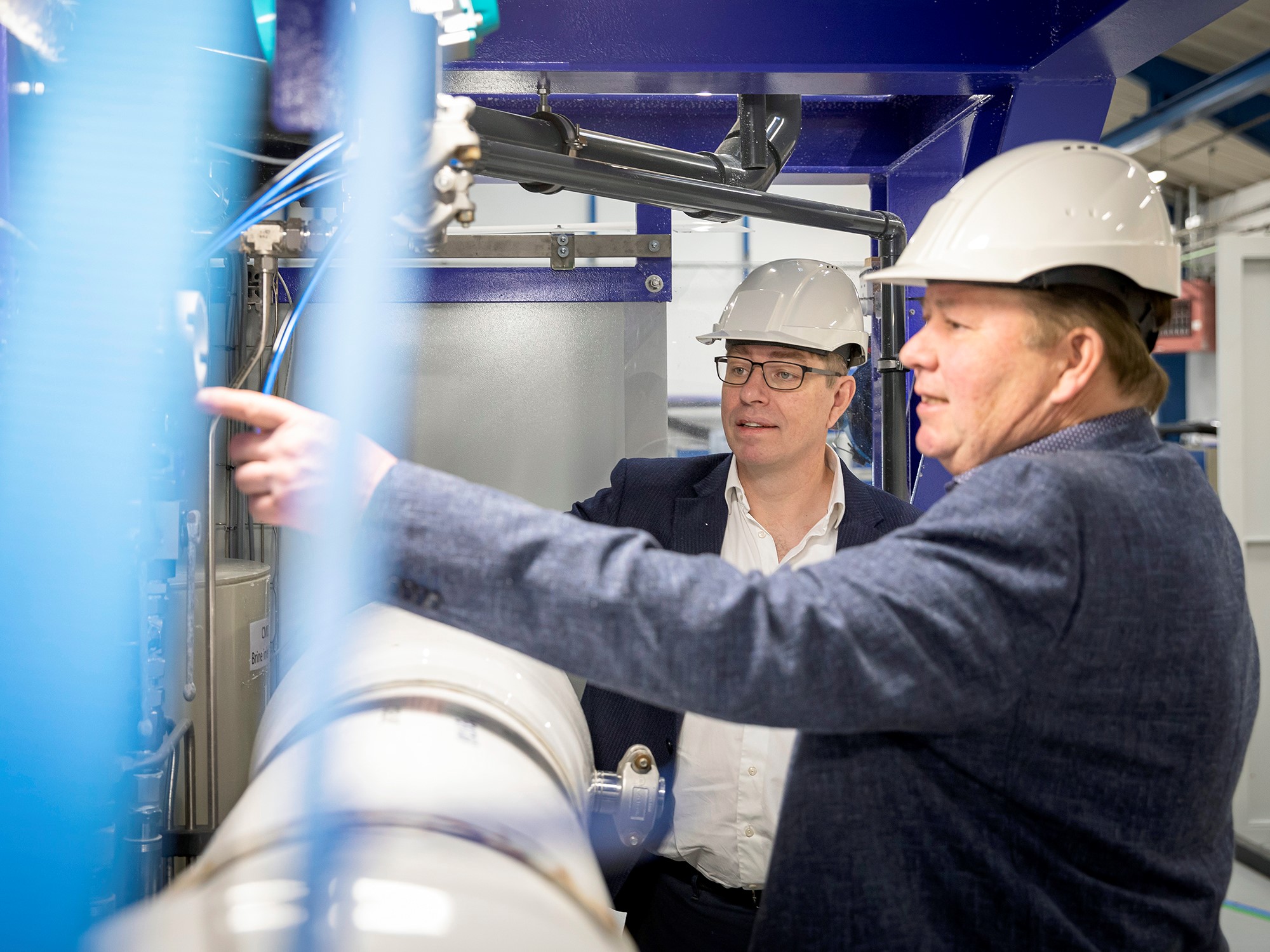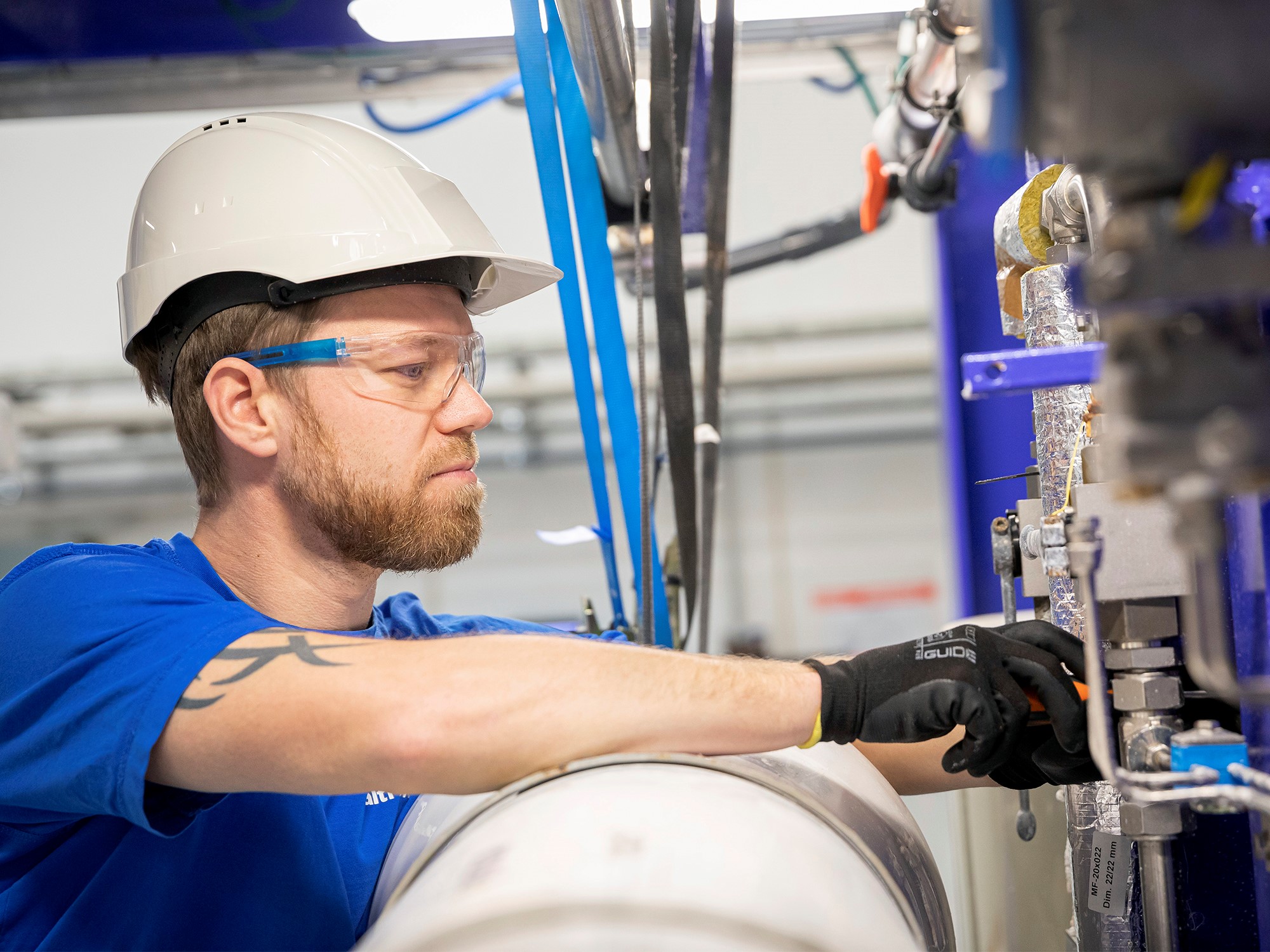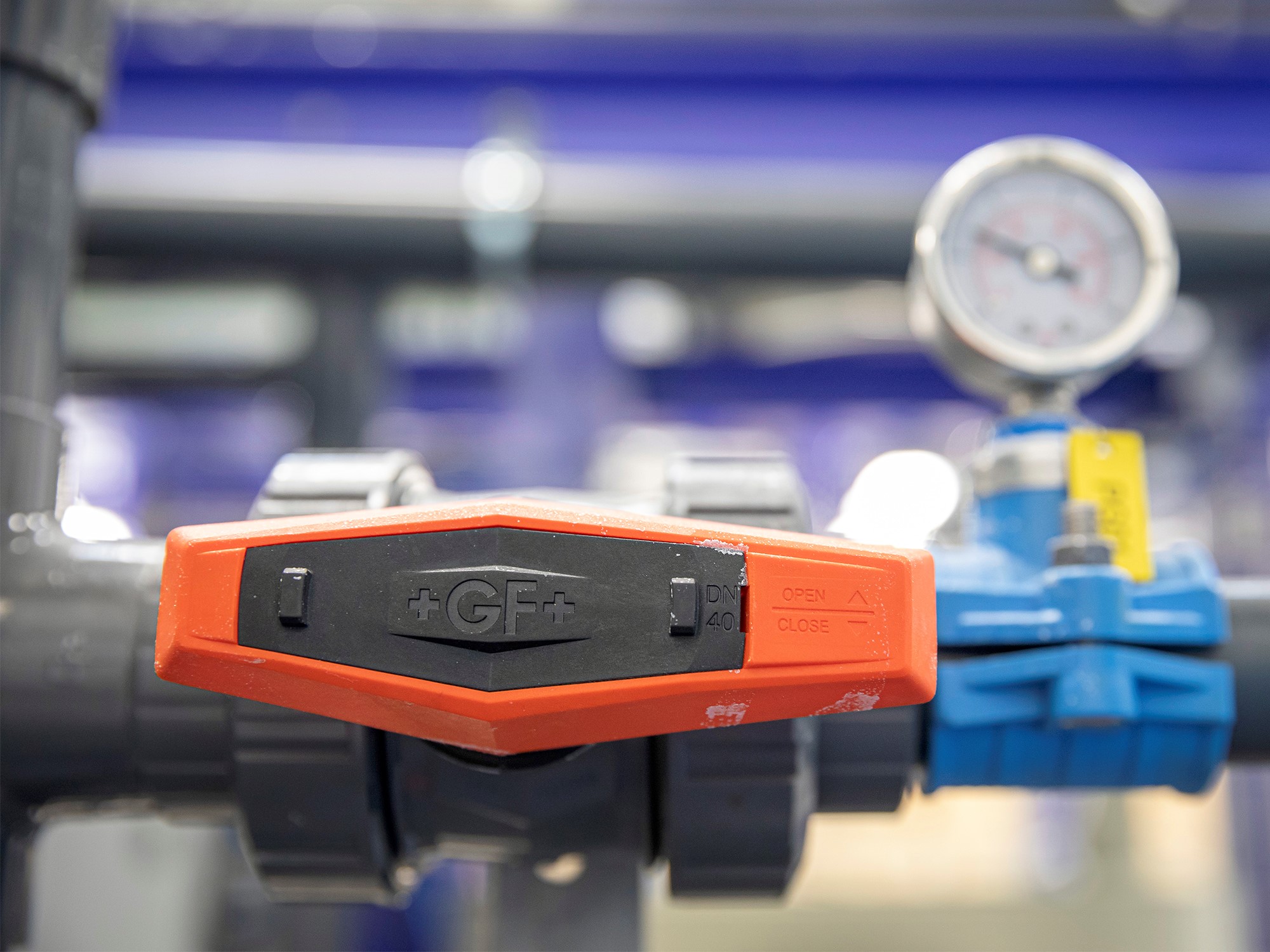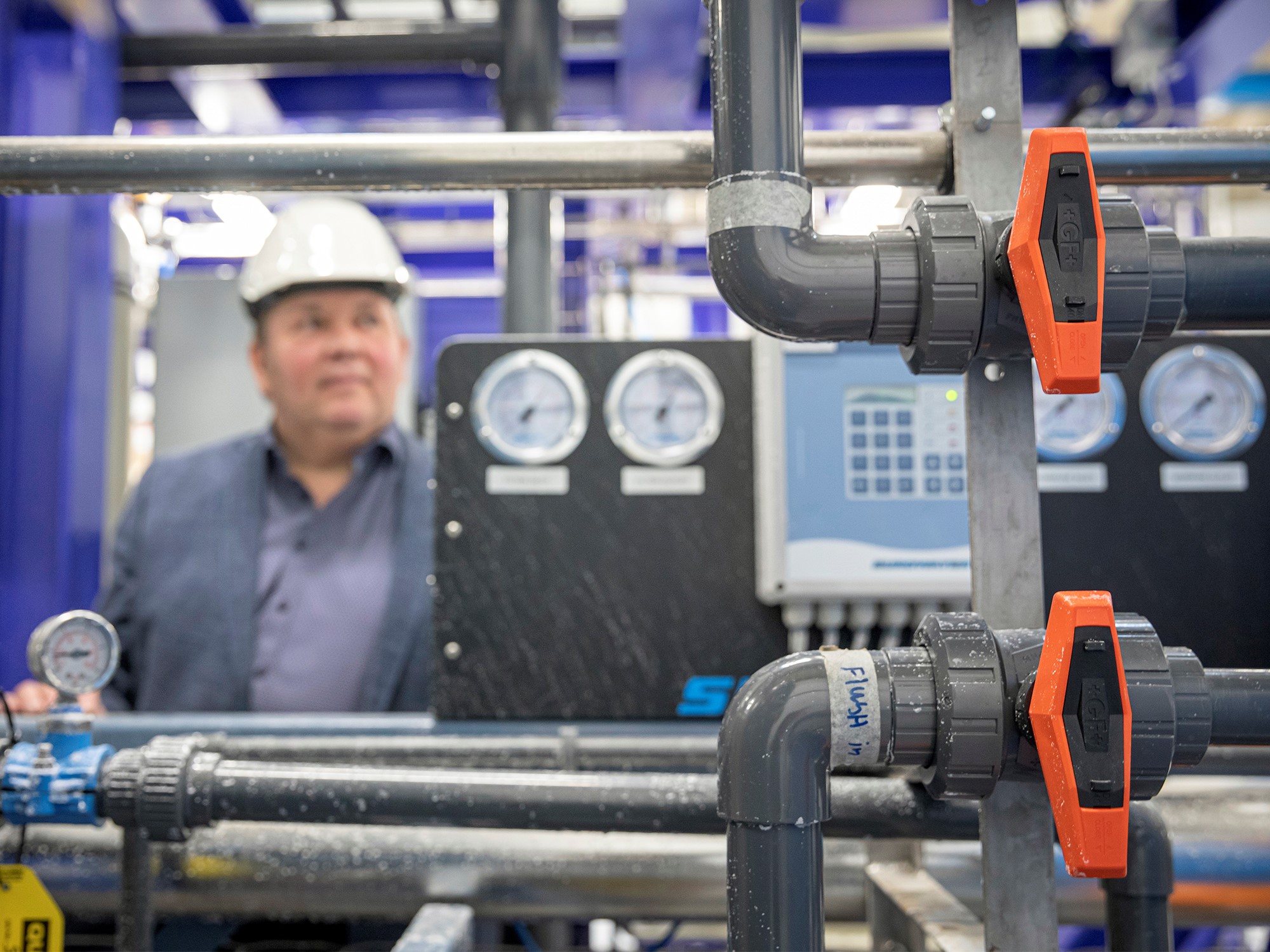 Working together to drive clean energy forward
With its first commercial order now underway, Lars Storm Pedersen believes SaltPower is primed to make a lasting impact in the clean energy sector. "Renewables such as solar and wind have key roles to play in the energy transition, but they are intermittent by nature," he says. "Using GF's piping components, SaltPower can generate clean electricity 24 hours a day, 365 days a year, which is exactly what the world needs going forward."
In the face of rising carbon emissions, GF is proudly working with SaltPower to develop this sustainable energy solution. And with the Danish company poised for rapid growth, this successful collaboration is laying new foundations for a cleaner, greener future.
Two points of view
What challenges did SaltPower face while developing its method for producing clean energy through osmosis?
Lars Storm Pedersen: Our system pumps water with a salinity of up to 26%, making it difficult to use steel pipes as they're prone to corrosion. Additionally, our clients are increasingly focused on our environmental footprint, so we needed components that would enhance our sustainability.
How did GF solve the challenges faced by SaltPower in the development process?
Michael Adamsen: GF's salt-resistant plastic pipes and components last around 25 years, which is five times longer than steel pipes. These extended lifespans conserve natural resources, and as they're also much lighter and easier to install, they vastly reduce maintenance costs.
What do you value most about the collaboration with GF?
Lars Storm Pedersen: GF is a professional and reliable partner that has been instrumental in reducing both our costs and environmental impact. GF's plastic pipes have a small carbon footprint and very long lifespans, helping us in our mission to deliver clean and sustainable energy.
What will the future of the partnership look like?
Michael Adamsen: Our cooperation has been highly successful so far, and SaltPower has recently sold its first full-scale unit. We are very proud of this progress and will continue to supply SaltPower with our plastic components for the systems it develops in the future.