Corporate citizenship
GF supports and promotes cultural and social programs at its various locations, as well as activities that contribute to the common good. In 2021, it spent around CHF 2 million at the corporate level on social engagement activities in addition to donations (around CHF 900'000) made by the individual locations. The largest contributions in 2021 went to GF's foundations: the Clean Water Foundation, Klostergut Paradies and Iron Library. In addition, several GF companies supported local activities with substantial contributions.
Improved access to clean drinking water
GF's Clean Water Foundation has supported a total of 160 drinking water projects worldwide since 2002. To date, GF has invested more than CHF 12 million and improved the lives of more than 330'000 people by providing better access to safe drinking water. In 2021, the Clean Water Foundation granted some CHF 500'000 to projects in Somaliland, Zambia, Cambodia, Nicaragua, and Uganda. Most of the projects focus on improving infrastructure for water filtration and distribution in rural communities and hospitals. In 2022, GF will celebrate the 20th anniversary of the Clean Water Foundation by supporting one project each in the areas of health/hospital infrastructure and education/school buildings. The partners of these projects, working in close cooperation with GF, will clarify in more detail how GF can make a greater contribution in the future via technical expertise and know-how in addition to financial support.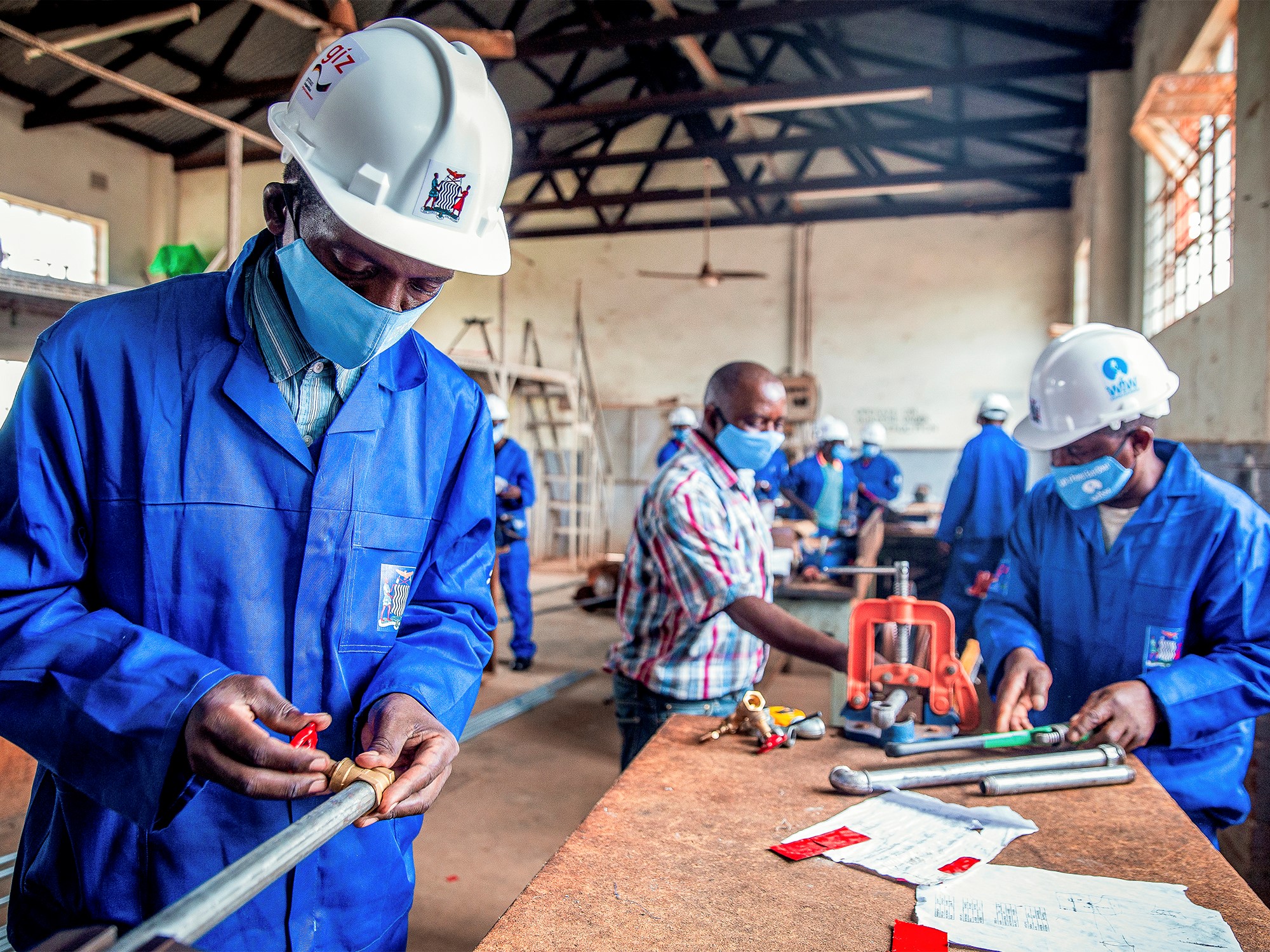 One of the main partners of the foundation is Caritas Switzerland. In 2021 the partners concluded phase III of a long-term project in Bolivia to improve access to clean and safe drinking water. In phase III, they have installed 18 drinking water systems in 10 different communities to the direct benefit of over 700 families. GF has supported these projects with approximately CHF 500'000 in funds.
Another trusted partner of the Clean Water Foundation is Water Mission, a non-profit organization in the US. To support Water Mission's fight against the global water crisis, GF hosts global "Walk for Water" fundraisers. During these events, participants walk approximately 1.5 miles to the midway point holding empty buckets, which they must fill with dirty water and carry another 1.5 miles to the finish line. The walk allows participants to experience the same day-to-day challenge as the 2.2 billion people worldwide that live without access to safe drinking water. In 2021, GF Piping Systems hosted a "Walk for Water" event in Irvine, California (US). Together with its sponsors, the 220 participants raised USD 150'000 for Water Mission. This effort alone will provide more than 6'000 people with clean water for the rest of their lives.
Each year, GF supports the Clean Water Foundation with a substantial lump-sum contribution. The Board of Trustees includes the CEO, who also chairs the Foundation, and two members of the Executive Committee.
Klostergut Paradies and Iron Library Foundation
The Klostergut Paradies in Schlatt (Switzerland) has been owned by GF since 1918. Today, this historic building serves as the Corporation's main seminar and training center. In addition, the Iron Library Foundation has been located at the Klostergut Paradies since its foundation in 1948. Today, GF proudly owns one of the world's largest private collections of books on material science and the history of technology.
The Iron Library and GF Corporate Archives, managed by one team, jointly preserve GF's historical and cultural heritage, which dates back to the 18th century. In 2021, the digital offerings included over 1'200 digitized volumes totaling more than 100'000 pages.