Environment and energy
Environmental challenges such as climate change, the rise in energy demand, the finite nature of fossil fuels, the scarcity of raw materials, and waste disposal practices are challenging businesses to rethink their production processes and contribute toward sustainable development.
GF assessed1 the environmental effects of its direct operations and found that energy consumption, the resulting greenhouse gas (GHG) emissions, as well as the waste generated in production are the largest contributors to the Corporation's environmental footprint. From a manufacturing point of view, GF's impact on water consumption is less relevant, because most of the processes are not water intensive. However, sustainable water management is a topic of key importance for some of GF's customers. As GF Piping Systems provides solutions for optimal water management, GF plays a crucial role in this regard – especially in water-scarce areas.
In 2015, as part of the overall set of Sustainability Targets 2020, GF defined a set of environmental goals and thus set out on a journey of optimizing its manufacturing processes. These goals focus on reducing energy consumption and CO2-equivalent (CO2e) emissions, non-recycled waste, as well as water consumption in water-scarce areas. These targets are binding for all GF production sites worldwide. Since 2015, measures have been defined, leading to several projects being implemented to achieve the reduction targets by 2020.
Energy and related GHG emissions
Energy consumption and the related GHG emissions are of high relevance for GF based on the specifics of its business. Care needs to be taken to avoid potential negative environmental impacts. For the GF operations, this means taking steps to consume energy more efficiently and to promote the use of renewable energy sources.
Over 80% of production sites have environmental management systems in place and are certified to the ISO 14001 environmental management standard. Additionally, sites of GF Piping Systems and GF Casting Solutions2 have their energy management standards certified according to ISO 50001. These monitoring systems contribute to an efficient use of resources and allow the sites to take immediate action if the consumption data show significant deviations from the average. Furthermore, quality management systems according to ISO 9001 and IATF (ISO TS) 16949 are implemented at 90% of the production sites as well at a number of sales companies.
In the year under review, total energy consumption decreased by 1% to 3.5 million gigajoules (GJ) while the order intake increased by 18% as compared to 2018. This positive result reflects the ongoing efforts at GF sites worldwide to increase the energy efficiency of their operations.
The reduction in energy consumption was mainly driven by a 2% decrease in electricity use as compared to 2018. Various small- to medium-size energy saving projects contributed to this development.
Besides investments into concrete energy efficiency projects, a number of organizational changes that took place in 2019 played a role in the development of GF's total energy consumption as well as the other environmental KPIs.
During the year under review, three existing production sites of GF Machining Solutions in Switzerland were consolidated into a new building in Biel. In September 2019, GF Machining Solutions inaugurated its new innovation and production center in Biel. In the planning of this building, the construction was done to meet modern energy efficiency considerations, which are expected to show clear results in the following years as the activity at the site is brought to its optimal capacity.
At the same time, one production site in Changzhou (China) moved into a bigger building. While these new sites were still in a ramp-up phase in 2019, they were built with the latest technology, and it is expected that it will perform at higher energy efficiency levels compared to the old locations.
Divisional share of net energy consumption3
in %
Divisional share of net energy consumption3 after divestment
in %
As part of the Sustainability Targets 2020, GF set itself two goals: to increase energy efficiency and to reduce CO2e emissions, both by 10%. During the year under review, 30 energy efficiency projects were implemented at the production sites of the three divisions.
For example, a plant of GF Piping Systems in Shawnee (USA) conducted a detailed assessment of its energy consumption and implemented several measures, including the installation of programmable thermostats. During 2019, the site invested in new energy-efficient injection molding machines and replaced the old chiller system with more energy-efficient ones. These measures achieved savings of around 500 MWh, which represents 2% of the site's annual energy consumption.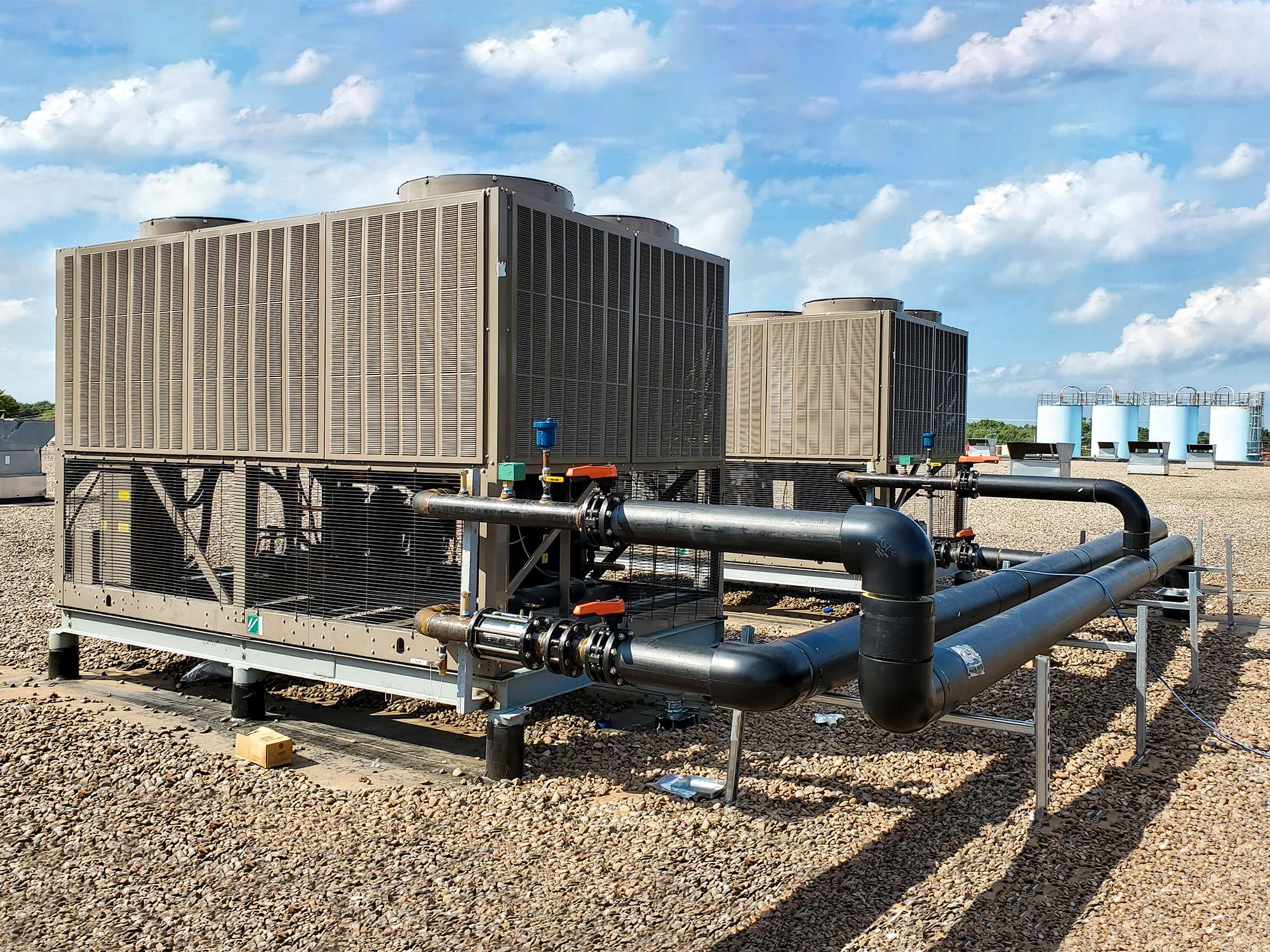 GF Casting Solutions' site in Altenmarkt (Austria) reduced its energy consumption by following the detailed energy management analysis. By optimizing the energy consumption of the furnace for aluminum, changing the energy source of the heating system, installing exhaust modules, as well as switching off each consuming unit when not in use, the site was able to save 2'400 MWh which represents 3% of its annual energy consumption.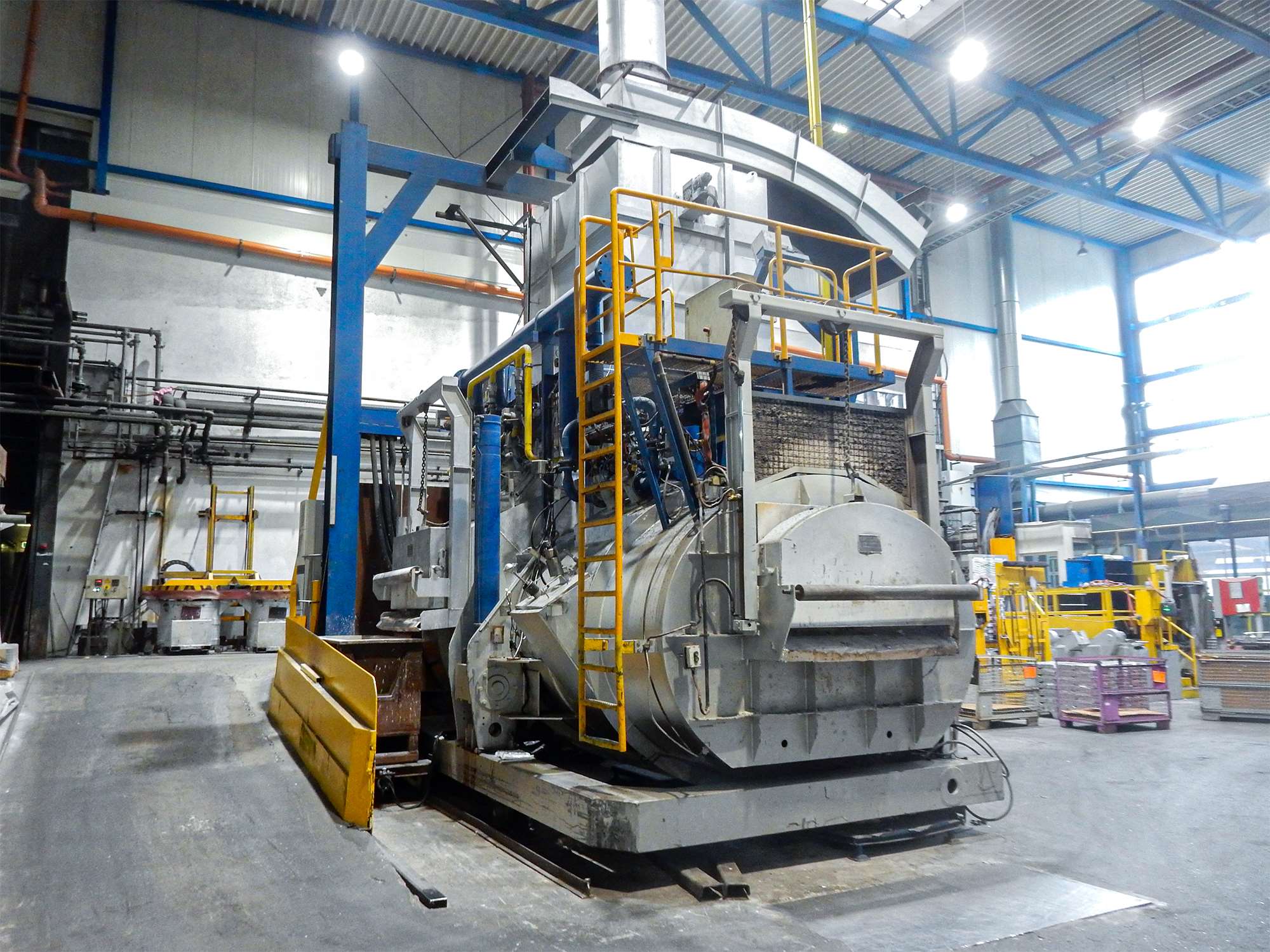 Composition of energy sources
Besides the amount of energy consumed, the composition of energy sources is equally relevant to GF's environmental footprint.
The strategic shift of GF Casting Solutions over the last two years to exit the European iron-casting business was the main contributor to the change in energy composition from 2018 to 2019. Compared to previous years, only coke was used. The amount of energy sold (mainly recovered waste heat) decreased dramatically.
Energy sources 2018
in 1'000 GJ
Energy sources 2019
in 1'000 GJ
In 2019, GF sourced 530'000 GJ as green electricity and produced 14'000 GJ green electricity, this reflects 15% of total energy consumption.
To increase the share of renewables in GF's energy mix, a dedicated project was conducted at GF Piping Systems to analyze potential for generation of renewable electricity and the possibility of substituting fossil fuels with renewable fuels, such as biogas, at the sites of the division. This project will influence the way GF sources and produces electricity. Currently, six GF sites generate their own electricity, either through solar power or hydropower, while the majority of GF's renewable energy is purchased.
Share of renewable energy
in % (incl. certified green electricity)
Target achievement: energy efficiency
During 2019, GF's production volumes increased while energy consumption decreased. This development was in line with the intended goal to increase the Corporation's energy efficiency4. All three divisions contributed positively to this result and reached the expected target line.
Energy efficiency index
production volume/energy consumption
As 2020 marks the end of the Sustainability Targets 2020 period, GF's efforts are focused on ensuring target achievement while critically evaluating the contribution of the implemented measures to the overall target. This evaluation combined with the future vision for energy efficiency at GF locations will support the company in defining appropriate and ambitious targets for the next strategy cycle to 2025. At the same time, GF aims to increase cross-site and cross-divisional exchange by communicating best practice examples among the locations.
To provide an appropriate contribution to the efforts of the international community to meeting the goals of the Paris Agreement, it is important that GF distinguish between the sources of greenhouse gas (GHG) emissions.
Total CO2e emissions increased by 5% in 2019. Scope 15 emissions remained stable and Scope 2 market-based emission6 increased by 6% in 2019 compared to 20187. 19% are created by GF's companies' consumption of fossil fuels (Scope 1), 80% of GF's GHG emissions stem from electricity consumption and are classified as Scope 2 emissions. The remaining 1% represents business travel (Scope 3).
This means that any action that GF takes to reduce its energy consumption will reduce Scope 1 and 2 emissions and contribute to meeting the global GHG target.
Total CO2e emissions
1'000 tonnes
In the year under review, GF Casting Solutions invested in Guarantees of Origin for its sites in Austria. The purchase covered 23% of the division's net energy consumption (or 35% of its electricity consumption) and contributed positively to reducing GF's overall Scope 2 emissions.
Target achievement: CO2e emissions
In the year under review, GF achieved the target CO2e intensity line. Compared to 2018, the intensity index increased as fewer Guarantees of Origin were purchased.
GHG emissions intensity index
CO2e emissions/production volume
Waste and circular economy
Ensuring prudent and responsible resource and waste management is important for GF. GF aims to redesign its production processes in a holistic way in order to close material loops. In principle, the castings of GF Casting Solutions are 100% recyclable whether they are made of aluminum or magnesium, and these materials are reused in a circular fashion. Additionally, GF integrates re-use opportunities when retrofitting its buildings.
Waste materials from production processes can be used as a resource for other industrial companies and therefore reduce the overall demand for energy and raw materials. Examples include using GF's manufacturing by-products as a substitute for fossil fuels or as an input for the production of cement. GF is constantly on the outlook for such opportunities.
In the year under review, the total amount of waste increased by 5%. The share of hazardous waste increased significantly from 4% to 9%, while the amount of non-hazardous waste remained stable, compared to the previous year. The increase of hazardous waste was mainly due to the increased production volumes of two GF Piping Systems sites and a re-categorization of waste at one site of GF Casting Solutions. GF will evaluate this development with the respective sites and decide on appropriate mitigation measures. The majority of GF's waste is non-hazardous and is being recycled (71%).
Composition of waste
Tonnes
Further initiatives focused on both sourcing of reusable materials and components as well as on revising GF's waste management processes to facilitate reuse are on the agenda of the three divisions.
Target achievement: non-recycled waste
The overall increase of waste negatively affected the achievement of the non-recycled waste target. During 2019, GF narrowly missed the expected target line.
Non-recycled waste intensity index
non-recycled waste/production volume
Water is essential to life on our planet, so good stewardship of this finite resource is important to GF. Therefore, GF aims to consume 10% less water in water-stressed and -scarce areas by 2020. In early 2017, an analysis was conducted of GF production sites which are located in water-stressed areas, using the World Resources Institute (WRI) tool.8 At the six identified locations (all part of GF Piping Systems), whereof three in China and three in the USA, the GF water target is binding. Over recent years, these production plants continuously monitored their water consumption and implemented improvement measures accordingly.
Water security score from CDP
In the 2019 CDP reporting cycle, GF maintained its B score.
The total water consumption for all GF sites increased by 13% in 2019 compared to 2018, but less than increase in production volume. Additionally, new sites of GF Casting Solutions in Switzerland and Romania adopted the sustainability reporting in the year under review for the first time. Furthermore, a leakage and a breakdown of a cooling tower at a site in Herzogenburg contributed significantly to the overall increase in water consumption.
Water consumption
in 1'000 m³
Water intensity index
water consumption/production volume
Target achievement: water in water-stressed areas
The production plants located in water-stressed areas reduced their water consumption beyond the targeted reduction path of 2% per year and are in a good position to meet the 2020 target.9
In 2019, the GF Piping Systems in Beijing (China) reduced its water consumption by half compared to the previous year. The plant reorganized its on-site cooling system and installed a temperature sensor that turns on the cooling when the outside temperature is above 30°C.
1
In 2015, when the Sustainability Targets 2020 were defined, and again in early 2018, as part of a materiality assessment process.
2
The following sites are ISO 50001 certified: GF Piping Systems: Deka GmbH and GF Fluorpolymer Products GmbH (both in Germany), GF Casting Solutions: Kunshan, Suzhou (both in China), Leipzig (Germany), Altenmarkt, Herzogenburg Services, and Herzogenburg HPDC (all in Austria).
3
Net energy consumption = energy consumed minus energy sold
4
The energy efficiency index that we calculate is equal to the inverse calculation of the energy intensity required by GRI (e.g. energy consumption – the numerator divided by production volume – the denominator). Included in the energy consumption are all sources of energy that are consumed within the organization (e.g. electricity and fuel consumption). Energy that is used for business travel (such as fuels for company cars and for planes) is therefore not considered.
5
Fossil fuels (Scope 1) are consumed because GF uses natural gas, oil, and coke (e.g. for heating and process heat), as well as petrol, LPG, and CNG gases (e.g. for internal transportation).
6
Indirect emissions (Scope 2) stem from purchased and consumed energy at GF plants and are not emitted by the company itself. GF publishes both the amount of Scope 2 market-based emissions and location-based emissions. Market-based emissions figures show emissions with instruments that were applied to neutralize them. For example, the purchase of green energy certificates is considered as an instrument, and it is directly subtracted from the total amount of emissions.
7
Due to the significant contribution of the divestment of the Singen and Mettmann iron-casting plants on Scope 1 emissions, the figures for previous reporting periods have been restated to allow for a like for like comparison.
9
In the year under review, an adjustment was made to the calculation of the progress regarding the water intensity target and the water consumption of GF Piping Systems. Therefore, the path towards achieving the target was recalculated for all the previous years as well.