Employees and society
People and safety
At the end of 2017, we employed a total of 15'835 people1 (15'163 FTEs), whereof 6'764 at GF Piping Systems, 5'738 at GF Casting Solutions, 3'255 at GF Machining Solutions, and 78 at the Corporate Center. GF assumes direct responsibility for their on-the-job safety, health, and well-being.
Motivated employees are crucial to the success of a company. As the realities of a modern workplace are continuously evolving, it is one of the key goals of GF to be agile and remain an attractive employer to its current and potential employees. This starts with the continuous fostering of a culture based on respect for one another and translates into the various measures and innovative initiatives to offer engaging and professional opportunities in all areas of our operations. This includes a broad set of continuous learning and development courses and programs, fair and competitive compensation, as well as progressive modernization of production and office facilities to promote a collaborative environment and the health and safety of our employees.

Anchor-1
Diversity and flexibility
Present in 34 countries, GF is by its nature a global organization represented by a diverse network of employees from all corners of the world. We see the diversity of cultures, religions, nationalities, genders, and age groups as a valuable source of talent, creativity, and innovation, which lead us to better performance and decision-making.
Sustainable Development Goals
With its activities, GF contributes to the following UN Sustainable Development Goal: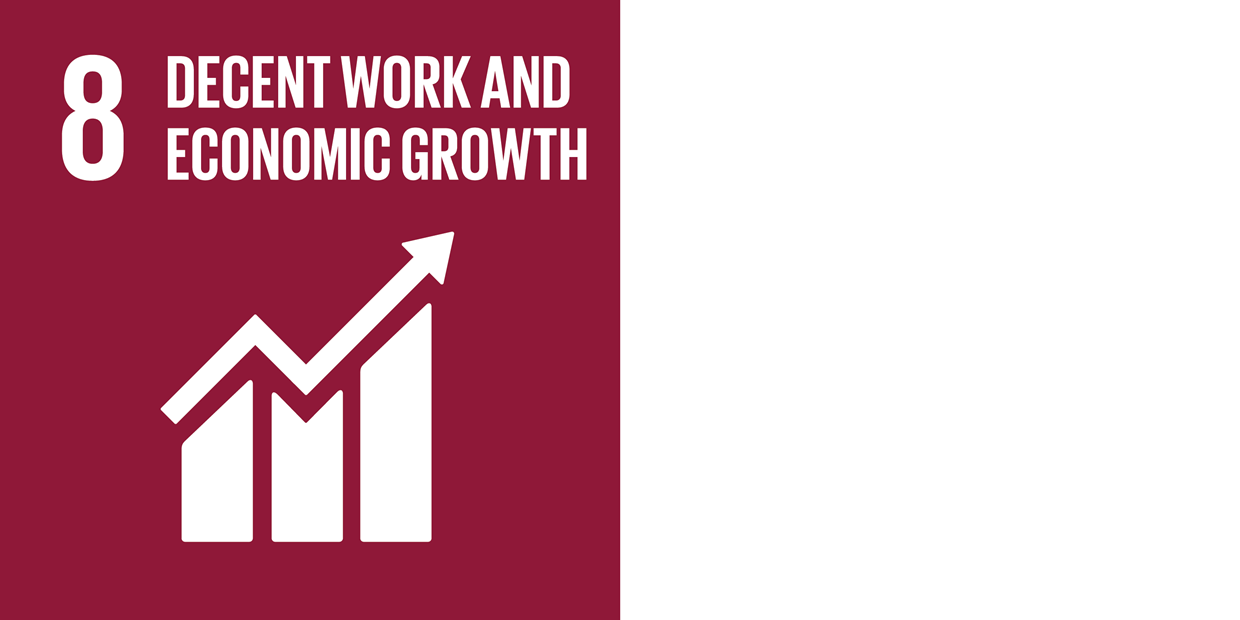 One of the three core strategic goals of GF is to drive the company toward innovation excellence. A key ingredient required to achieve this goal is the establishment and fostering of a flexible and creative working environment. Through an initiative specific to locations in Switzerland2 ("future@work"), the company continuously analyzes and implements steps toward the fostering of attractive and flexible work models, enabling employees to bring their work and private life better into balance. Currently, however, the percentage of employees working part-time is only 2.4 percent. One reason for this is that in work systems that involve shift work – as is the case for production facilities – it is extremely difficult to integrate part-time positions and therefore there is little demand.
In the year under review, 14.6 percent of employees Corporation-wide were women (2'213 FTEs). The proportion of women in management was 14.1 percent (90 FTEs) of the total workforce vs. 16.8 percent (95 FTEs) in 2016.
Seeing this as a necessary area for improvement, both from the overall employer attractiveness perspective but also as an opportunity to add diverse points of view to how we approach business tasks, GF has initiated a variety of measures to boost the percentage of women among the workforce and in management3. A working group, consisting of the Talent Management specialists from the Corporate level and the divisional HR, coordinates the topic, and progress is discussed at quarterly Corporate HR meetings.
As an important milestone, the company introduced a new and progressive policy in June 2017 for its employees in Switzerland, whereby it offers parents of newborns three weeks of maternity or paternity leave in addition to the existing provisions under the collective employment agreement (16 weeks for mothers and five days for fathers). Furthermore, GF guarantees women a comparable position – whether part-time or full-time – up to a year after the birth of their child. Not only does this help to promote overall gender balance improvement, it also facilitates the easier return of women to work after maternity leave.
Additional measures across the locations place focus on the recruitment process and finding female candidates for positions key to the core business, on conducting complementary communication within the company, and on strengthening the existing training courses with aspects of modern leadership topics (e.g. raising awareness and sensitizing the participants on the added value of diversity).
The topic of diversity extends beyond gender. Discrimination based on any personal attributes4 is not tolerated within GF, and we strive to have an accepting and welcoming culture for all. We welcome applications from people with a disability and support their integration into our business. At the end of 2017, there were 298 employees with disabilities working at GF (2 percent of the total workforce).
GF also focuses on employees who are approaching retirement. We believe that they represent a wealth of know-how and experience. Therefore, an array of possibilities is offered to these employees around the world in order to ensure both the smooth transfer of their expertise to the new generation of GF specialists as well as facilitation of their personal transition to the next life phase. In Schaffhausen (Switzerland), for example, GF conducts awareness training sessions on what it means to go into retirement in terms of management of personal finances as well as on remaining active physically and mentally.

Fostering collaboration
Collaboration within and across divisions and functions is only feasible if a respective collaborative culture is continuously nurtured. This starts by living the five values of GF, which support the culture in question, and is reinforced by training of all employees based on the framework of the "7 habits of highly effective people"5. Further, collaboration requires appropriate structures in terms of processes, infrastructure, and physical space.
In 2017, a project was launched to standardize Human Resources (HR) processes across the divisions and countries with the purpose of enhancing communication between line management, employees, and the HR department, as well as strengthening the common understanding of the Corporation's values and leadership. This initiative should help HR to successfully and efficiently support the day-to-day operations of GF and provide a boost to the implementation of Strategy 2020. The concept was developed by a cross-divisional team, and will be realized step by step over the next few years.
In parallel, GF has initiated a long-term program to modernize the working and communal spaces for back office employees. The pilot for such innovation spaces was implemented in late 2017 on the ground floor and in the outdoor facilities of the Corporation's headquarters in Schaffhausen. The new concept fosters collaboration through out-of-the-box co-working spaces. Further premises will be re-designed according to this concept in 2018, including at the GF Piping Systems location in Schaffhausen, as well as in the new GF Machining Solutions building in Biel, both in Switzerland.

GF has initiated a long-term program to modernize  working and communal spaces for back office employees.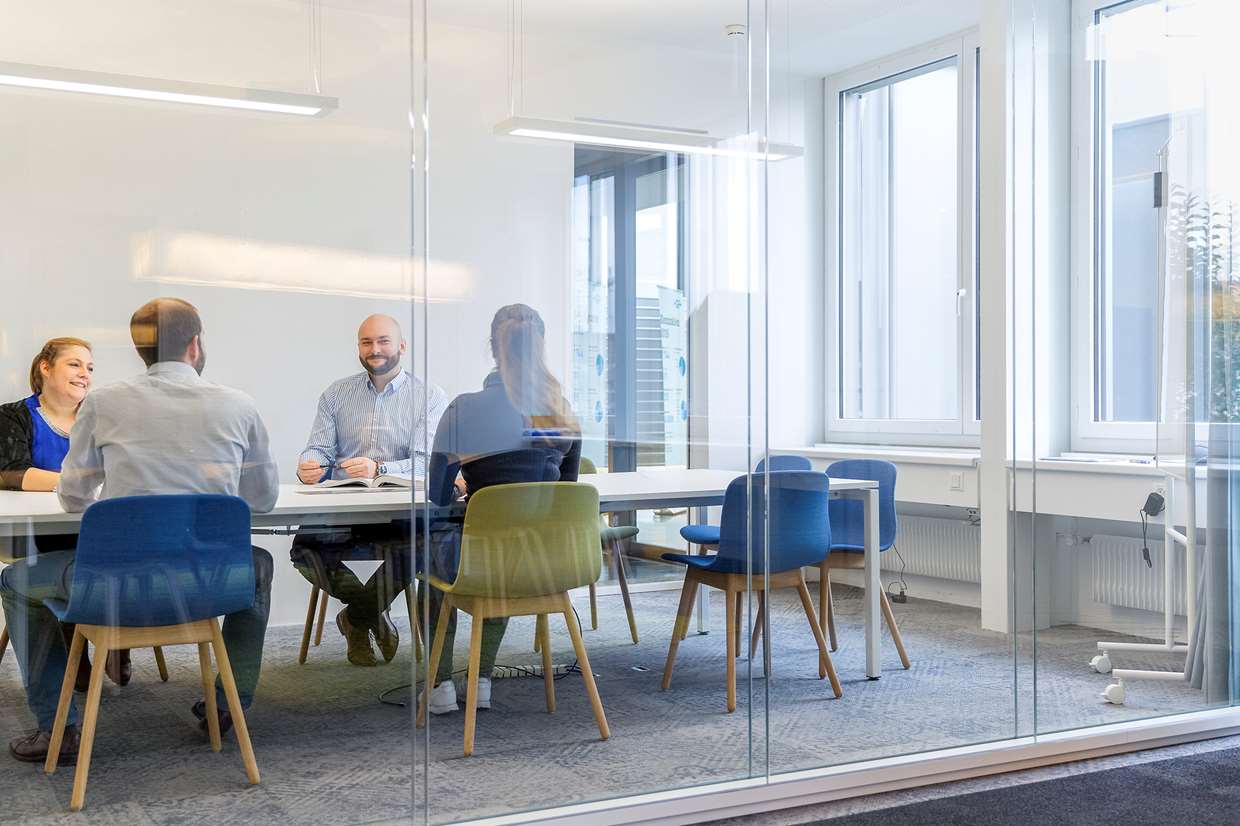 The new concept fosters collaboration through out-of-the-box co-working spaces.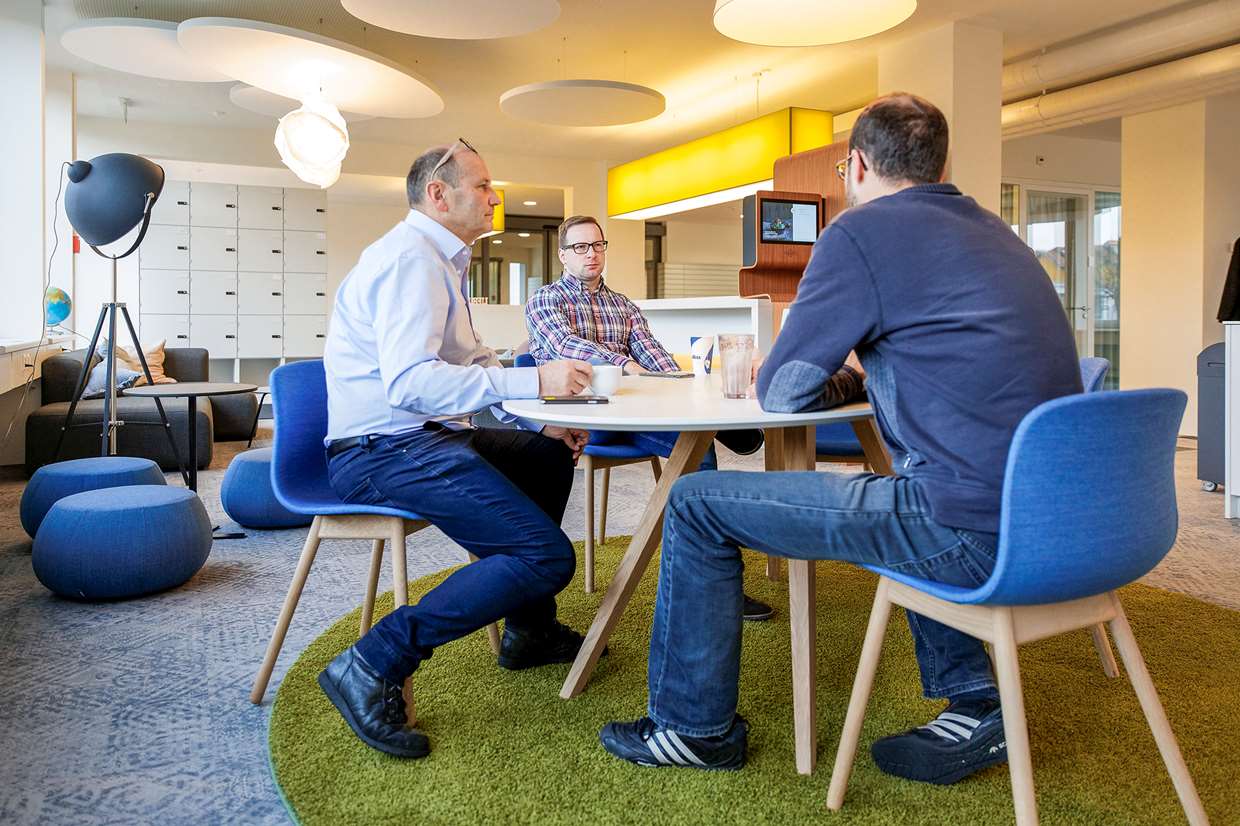 In the next few years, GF is investing over CHF 100 million in new modern facilities. 
Anchor-2
Training and professional development
Knowledge and hence the development of employees are essential for a company's sustainable success. Therefore, GF supports its employees and strives to strengthen their know-how during their entire career through targeted and customized training and professional development activities.
On the Corporate level, the training and professional development portfolio is designed and implemented by the GF Academy, which coordinates respective Corporate-wide measures and programs that target social and technical management skills for the management and employees of all divisions and regions.
Complementary to these courses, the divisions also have their own training programs to provide relevant educational support to the operations of specific business areas. These programs focus on applied technical education as well as training in the area of Occupational Health and Safety (i.e. Zero Risk campaign).
Many of these training programs take place at Klostergut Paradies, the Corporate Training Center of GF in Schlatt (Switzerland). This facility is located within the eight century-old building of a former monastery and is equipped to modern standards with state-of-the-art infrastructure.
The education and training program has created a stable base within GF, so that the company has been able to fill 62 percent of vacancies in management in the period 2016-2017 with internal candidates. As of the end of 2017, 75 percent of all management positions came from within the GF ranks.
On average, GF provided 2.5 training days per employee in 2017 (compared to 2.2 days in 2016). The respective costs for employee education and training amounted to almost CHF 9.7 million (around CHF 800 per employee), reaching 77 percent of the workforce.
Special focus training programs
A key element of GF's Strategy 2020 is the topic of innovation. To accelerate the transformation of the company and to sharpen its customer focus, we are implementing the Design Thinking approach across all divisions to make it an integral part of Corporate culture. The core beliefs driving this initiative are that:
–

success depends on clearly defined factors: multi-disciplinary teams, a "try early and fail quickly" culture and a structured process including rapid prototyping as well as ongoing dialog with customers

–

innovation is not restricted to R&D – it is a team effort that spans all functions
To date, over 50 training sessions on Design Thinking for more than 1'000 employees have taken place around the globe (of which 500 people were trained in 2017).
As a follow-up to training, GF has launched concrete pilot projects in each division and defined teams that are responsible for successful implementation. It is fair to say that the change is already taking root, as our employees across the organization are starting to apply Design Thinking methodology in their meetings and projects.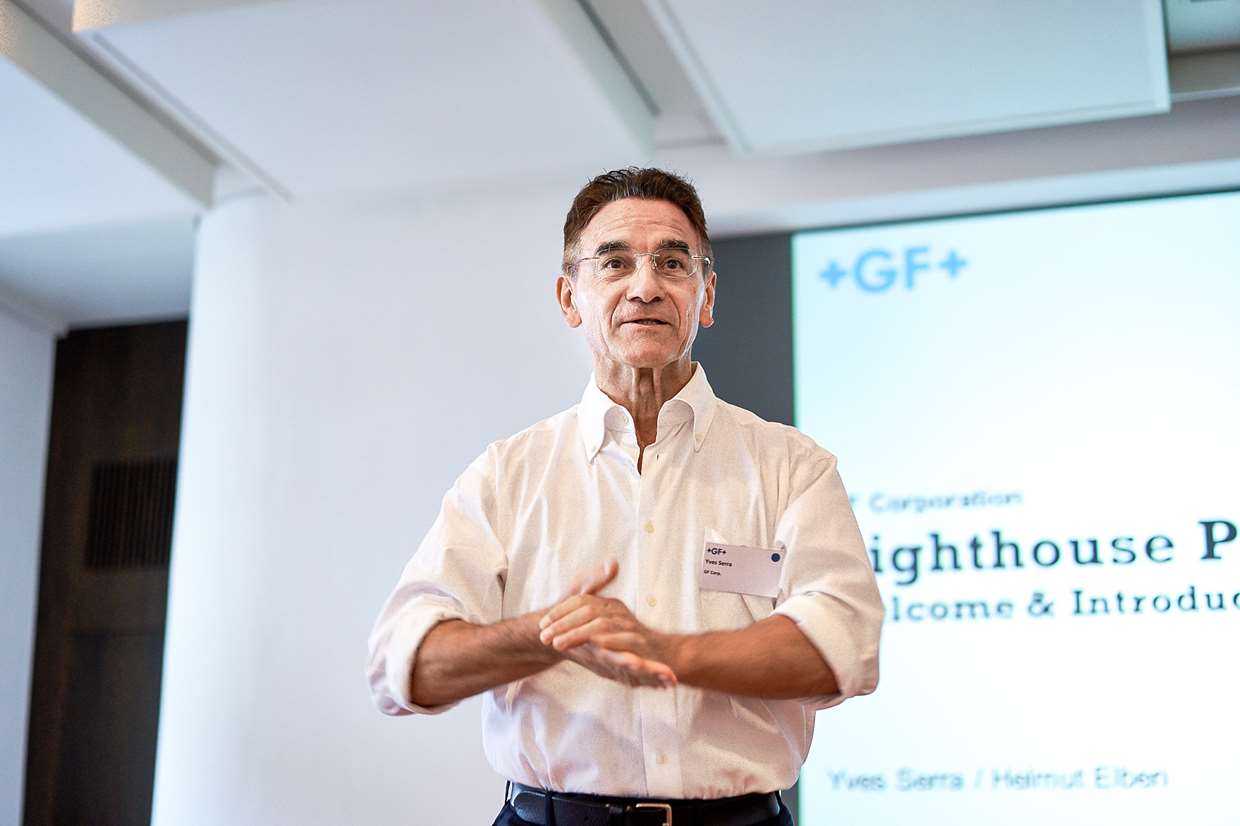 At an internal Design Thinking presentation, CEO Yves Serra explained the significance of the Corporate-wide initiative in relation to Strategy 2020.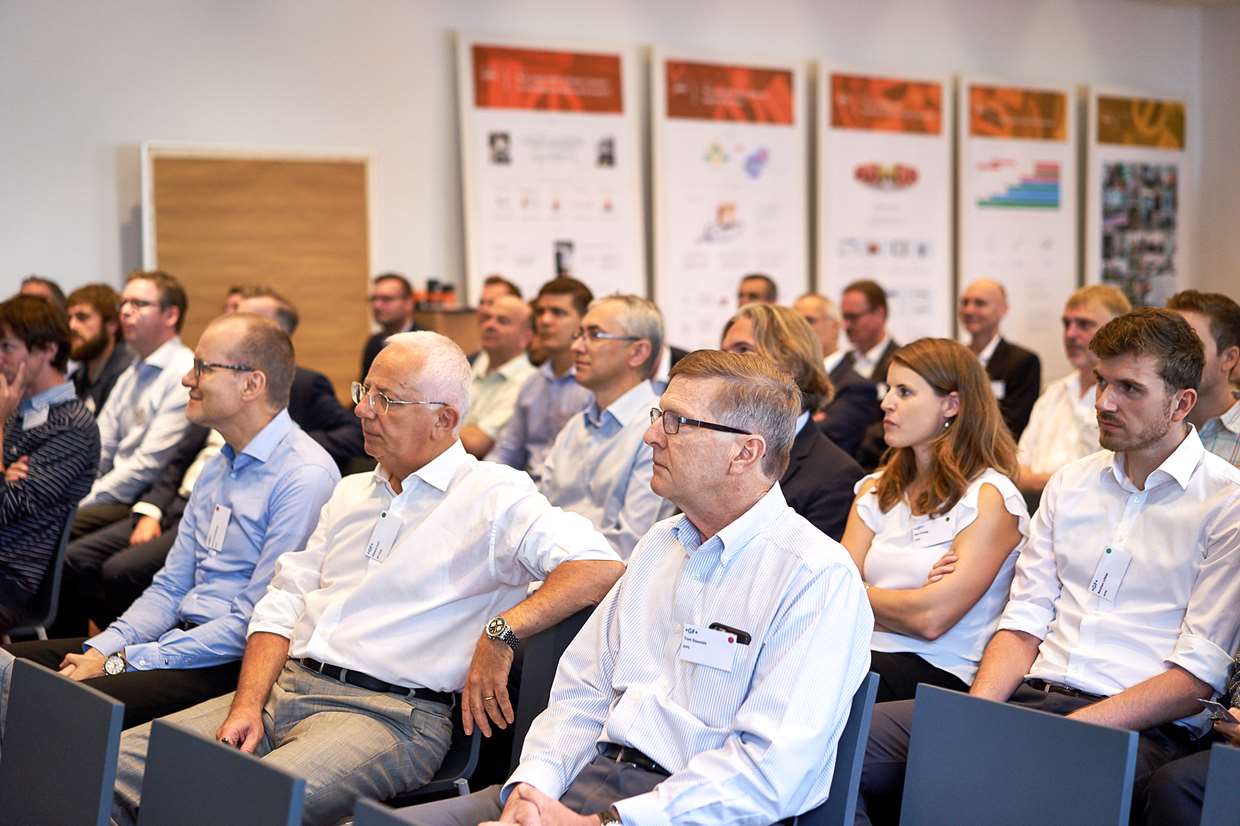 Lighthouse projects from the divisions were presented to over 60 guests.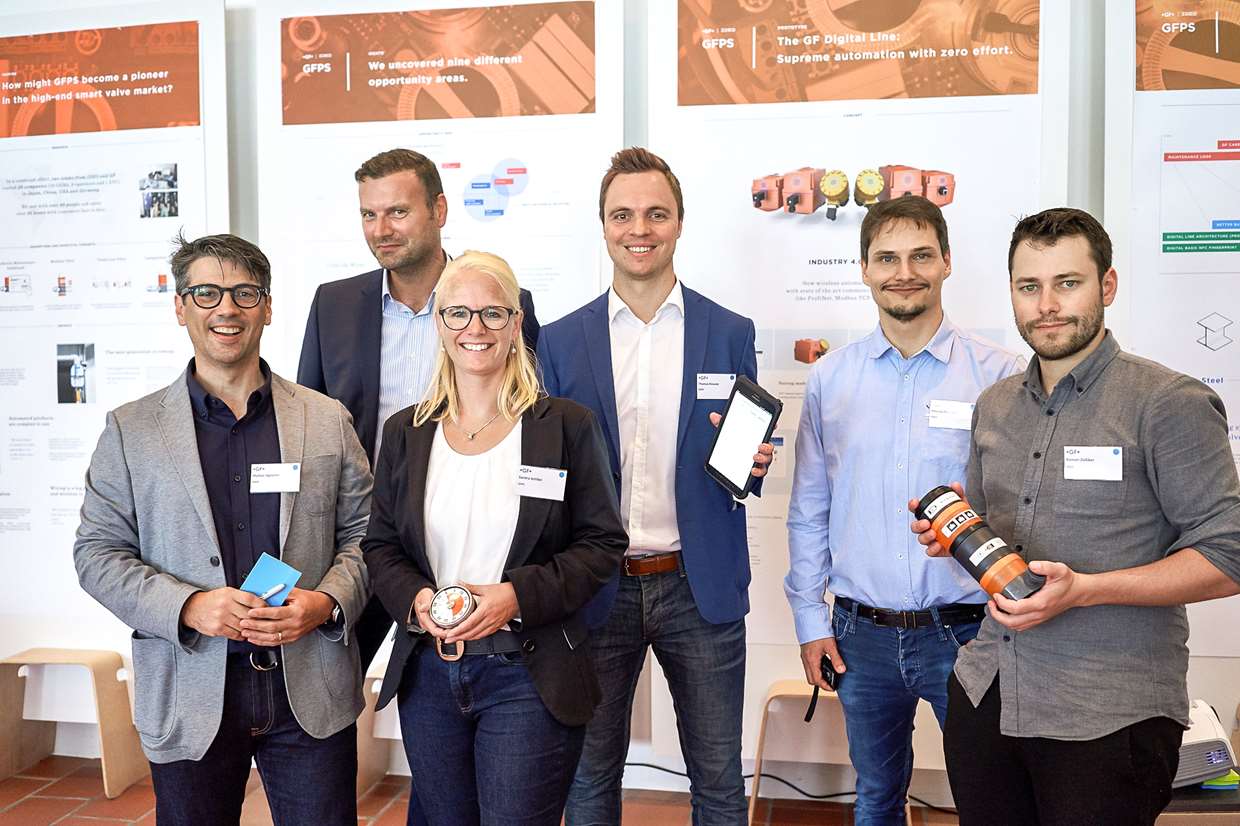 The GF Piping Systems Design Thinking team: Jörg Hunnekuhl (second from the left), Sandra Schiller (third from the left) and Thomas Küssner (fourth from the left) with representatives of the innovation consulting firm IDEO.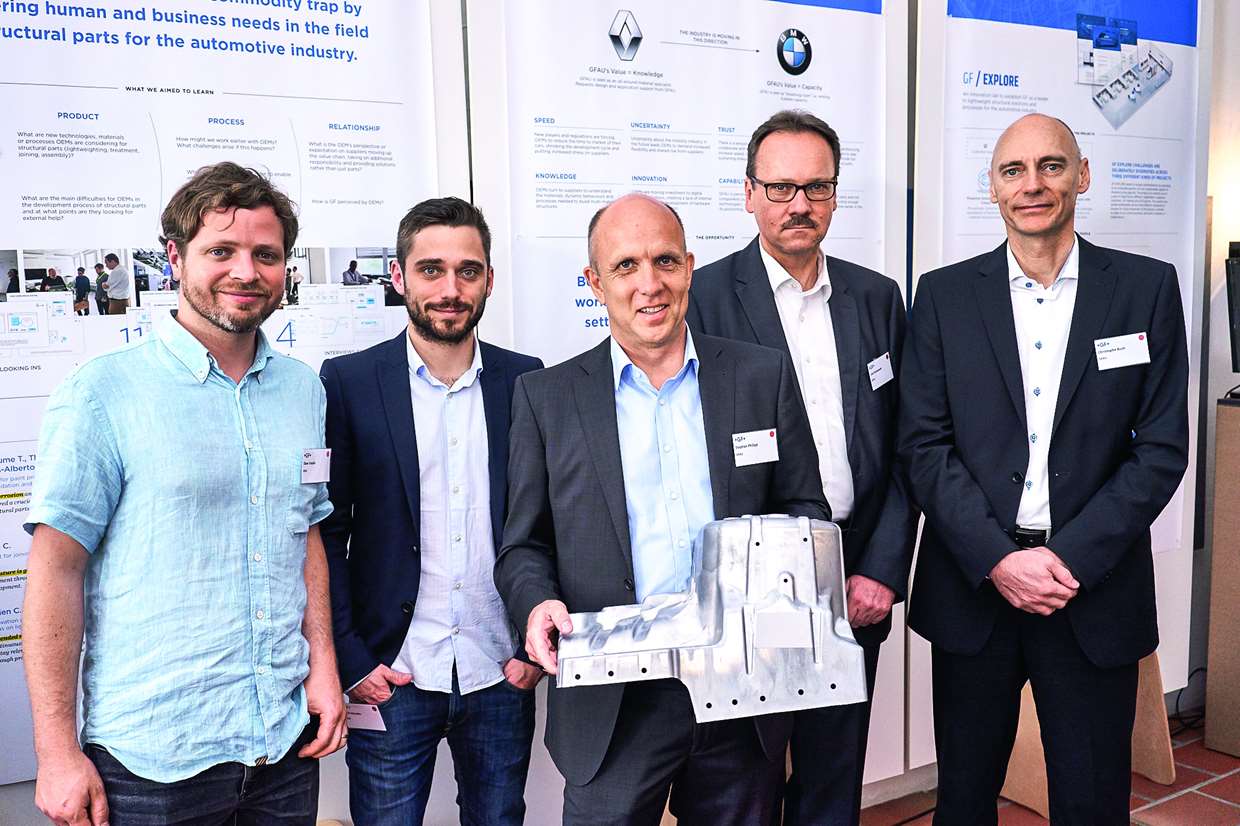 The GF Automotive Design Thinking team: Stephan Philipp (third from the left), Udo Kreutzarek (fourth from the left) and Christophe Buch (fifth from the left) with IDEO representatives.
The GF Machining Solutions Design Thinking team: Stéphane Cru, Adrien Rodrigues, Tiziano Vigano, Volker Reichmann, Roberto Perez, Jean-Philippe Besuchet and Ivano Gazzetta (from left to right) with an IDEO representative.
In addition to Design Thinking, a Value Selling approach is being implemented within the organization to address the strategic target of realizing business potential in higher value areas. Together, they form the basis for collaborative work across functional and geographical borders to provide the best solutions and services fulfilling customers' needs and expectations. In 2017, almost 1'800 employees worldwide participated in Value Selling training. The next step is to incorporate the learning into practice and everyday work and to intensify it with further training.
As part of the professional development framework for the employees of its division, GF Casting Solutions is continuing the successful program for young professionals, WiN6. Each intake of this program runs for two years and offers its participants a job rotation in different locations within the division to gain international experience and an enriched view of various business tasks. In 2017, 16 participants of the 2015 WiN cohort graduated from the program, eight of whom chose to do job rotations. The new intake that started in 2017 has 15 participants (running until 2019). WiN offers a broad range of possibilities and places emphasis on self-motivation and drive. Once a year, the group meets for training and team-building activities, including modules on conflict resolution, positive leadership and strengthening of social competencies. A similar program is planned for launch within GF Machining Solutions in the near future.

Collaborations with academia
GF works closely with various technical universities around the world. We offer possibilities for students specializing in science, technology, engineering and mathematics to do an internship at GF or to complete their bachelor's or master's theses by working on challenging projects and case studies. Current collaborations include top technical universities in Switzerland, Germany, Austria, and Australia. Furthermore, GF is developing similar collaborations with universities in China and the USA in order to strengthen access to engineering talent in these key markets. An excellent example of a fruitful partnership with a university was the Entrepreneurial Leadership Seminar (ELS)  in Switzerland in 2017, where students from the master's program in Management, Technology, and Economics (MTEC) of ETH Zurich worked on real Strategy 2020 business projects and presented their findings to the Executive Committee of GF.
Sustainable Development Goals
With its activities, GF contributes to the following UN Sustainable Development Goals: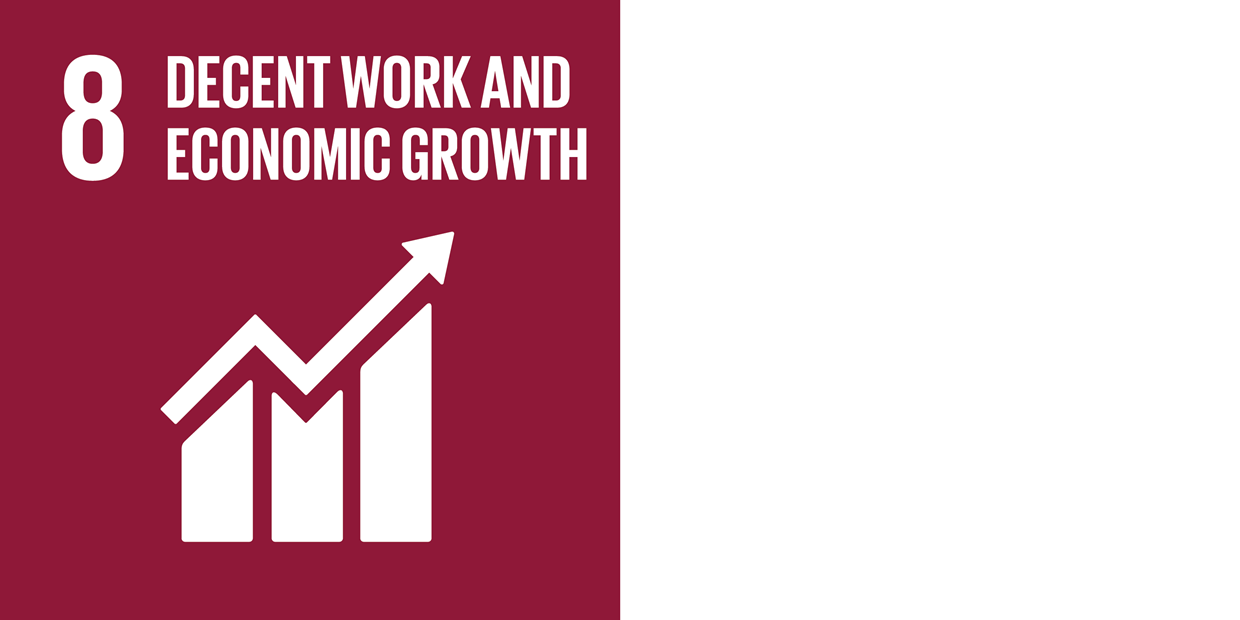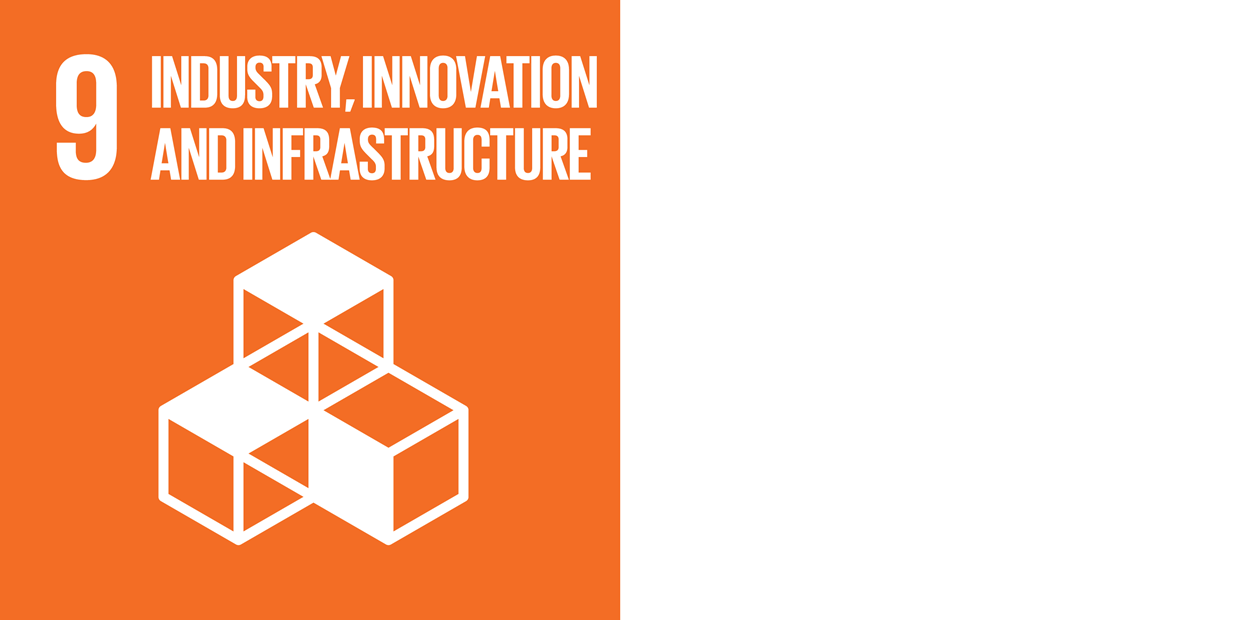 Apprenticeships are a long-standing tradition at GF and ensure that the Corporation can draw on a skilled workforce. There is a broad range of training opportunities that span a variety of technical and commercial professions. In 2017, GF trained 525 apprentices globally (540 in 2016).
In Switzerland, the vocational training is part of the official education system, and in 2018, GF celebrates 100 years of supporting this program. GF was among the first companies to establish such professional education, and we are committed to maintaining this tradition. Here, GF has internal guidelines to ensure that persons, who completed an apprenticeship at the company are then also given preference if there is an open position. In the USA, GF is using the Swiss apprenticeship model to offer training positions in all three divisions. Collaborations on this are ongoing with many colleges across the country in the vicinity of GF locations. The goal of these measures is to make up for the shortage of qualified workers by taking a long-term perspective and developing the company's own specialists. As an additional positive side effect, this helps GF foster the reputation of being an attractive employer in its local area.
Anchor-4
Employee satisfaction
Employee retention plays a major role in the ongoing success of GF. To measure the satisfaction and commitment of employees, the divisions regularly conduct surveys among their employees. The results and findings are used to design measures for improvement. In 2017, one such survey was conducted by GF Piping Systems, whereby the employees were asked about such topics as leadership quality, their own level of commitment to and satisfaction with GF, the company values as well as GF Strategy 2020. Over 4'000 employees took part in the survey (response rate of 82 percent), and 84 percent of them indicated that they would highly recommend GF Piping Systems as an employer. Very positive results were achieved across all topics of interest, with commitment to the company's objectives as well as to the company scoring the highest. At the same time, improvement potential was identified on certain topics, specifically in regard to cross-departmental cooperation. Based on this feedback, the division initiated the definition of improvement measures, which will be implemented during 2018.
Collaboration between GF and ETH Zurich
Get an impression of the Entrepreneurial Leadership Seminar (ELS) 2017
Corporation-wide, the total fluctuation rate (including dismissals and retirement) in 2017 was 11.3 percent (compared to 11.6 percent in 2016).
Anchor-5
Employee representation
GF respects the right of its employees to join employee representation bodies. Such setups therefore exist in a variety of GF locations and entities around the world, including Switzerland, Germany, Austria, China, France, Sweden, Japan, and Taiwan. Where local legislation provides for rights of co-determination for employees, these rights are protected.
Anchor-3
Health and safety in the workplace
Reducing the risk of accidents
The health and safety of employees have the highest priority within GF, and therefore the company strives to achieve a 20 percent reduction in the accident rate by 2020, with the ultimate goal of having zero severe accidents. In order to achieve these targets, GF trains its employees, contractors and visitors on health and safety topics via the Zero Risk campaign7. For accidents that still occur, the divisions conduct monthly analyses8 of information about the causes of these accidents and possible mitigating actions for the future. At the same time, this data is also aggregated on a monthly and a half-annual basis on the Corporate level.
Sustainable Development Goals
With its activities, GF contributes to the following UN Sustainable Development Goal: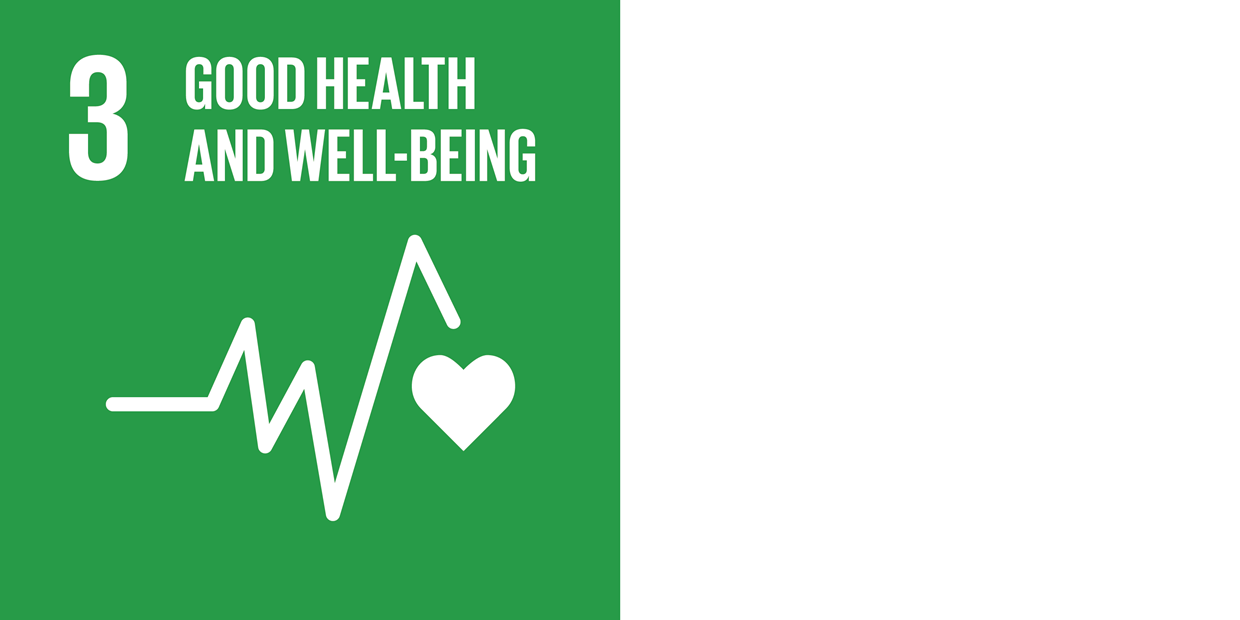 Continuing in the steps of GF Casting Solutions, in late 2017, the GF Piping Systems division started the rollout of the campaign with the goal of providing at least one hour of safety training to each employee. Safety posters and videos were developed to accompany this initiative and are available in 17 languages.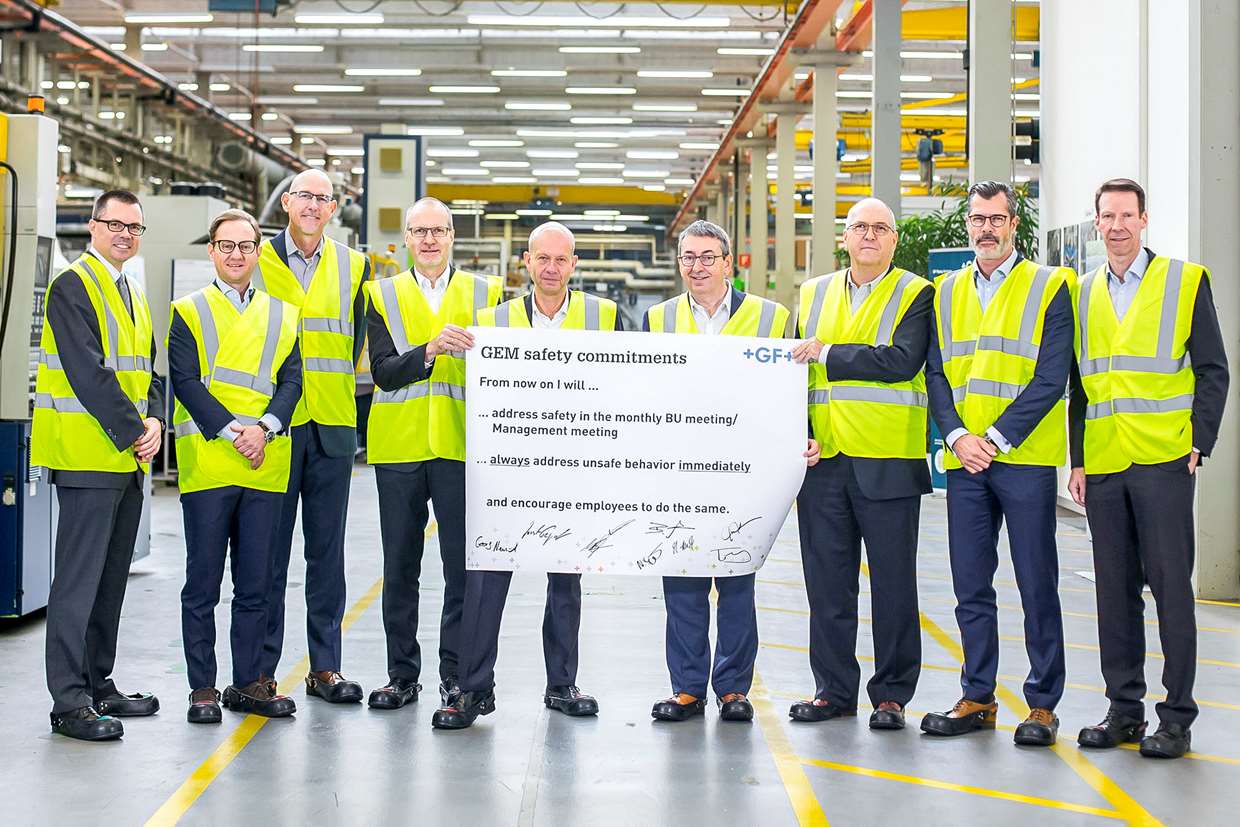 At GF Piping Systems the top management is fully committed to safety at work.
In phase 2 of the campaign, GF Casting Solutions focused on lasting behavioral changes and conducted training for 3'500 of its employees in 20179. The respective training sessions will be repeated for the companies that were newly acquired during 2017 and early 2018.
GF Machining Solutions plans the roll-out of the campaign for 2018, focusing on conducting on-site events to raise awareness about possible risky behaviors and ensure safe conduct during production at all times.

To successively root the safety culture in every GF site worldwide, the three divisions will conduct cross-site safety audits at the production plants and warehouses in 2018. During 2017, GF Piping Systems and GF Casting Solutions focused on audit training and established a process to communicate findings and share best practice solutions within the business. GF Machining Solutions has conducted these audits annually since 2016. Each site receives an overview of its safety at work status, and corrective actions are agreed on accordingly. The status of implementation of the corrective actions is reviewed during the subsequent audits.
To date, this continuous and consistent focus on Zero Risk has proven to be fruitful, as the accident rate per one million working hours decreased Corporation-wide to 15.9 in 2017 from the baseline of 25.010. We are thus on track to achieve one of the Sustainability Targets 202011. Having said that, we of course need to ensure that we remain vigilant and continue to further internalize and practice the main messages of the Zero Risk campaign.

Accident rate
per 1 million working hours
The total number of accidents involving GF employees decreased in 2017 in each division, resulting in a 13 percent Corporation-wide reduction from 468 accidents in 2016 to 407 in 2017. Most of these accidents happened in the production and processing areas.
At the same time, we unfortunately observed an increase in external employee accidents as well as a shift towards a higher severity of accidents. Therefore, further development of the Zero Risk campaign will focus on addressing third-party personnel and conducting further training for them on the principles of Zero Risk at work.
Proud to report
One excellent example of a lived safety culture is the production site of GF Machining Solutions in Changzhou (China), which at the end of 2017, celebrated three years of operations with zero accidents.
Employee well-being and absence rate
Besides the focus on fundamental workplace safety, GF also pays particular attention to the promotion of the health and well-being of its employees, as these are crucial for the retention of existing and attraction of new employees, and thus for ongoing success as a company. Consequently, GF encourages a healthy lifestyle, proper nutrition, and the importance of a good work-life balance among our employees. At our premises, GF has set the goal of offering safe and ergonomic workplaces, both in the back office and in the production facilities.
Following this approach, GF Casting Solutions in Singen (Germany) offers seminars for employees with irregular shift work on how to address any health challenges that may arise by optimizing sleep and nutrition routines. Furthermore, employees have the opportunity to give input on the working time distribution plans within the team in to order to accommodate their individual needs.
Other locations have also realized various health and well-being programs for their employees. GF Piping Systems in Albershausen (Germany), for example, invested in mobile massage services for its employees as well as in height-adjustable tables. At GF Casting Solutions in Herzogenburg (Austria), a fitness competition was organized in 2017 among employees to motivate them to be as active as possible by, e.g. using the stairs instead of taking an elevator at the office, biking to work, hiking on the weekends, etc.
The combination of all these efforts could support the Corporation in nearing its goal of reducing the absence rate by 10 percent by 2020 (from a baseline of 4.41 percent12). In 2017, the absence rate decreased very slightly to 4.02 percent as compared to 4.09 percent in 2016 and 2015. This equaled on average 9.2 absence days per FTE per year, with 95 percent of the absences being due to non-work-related reasons. In the years to come, further efforts will be necessary in order to achieve the set goal in a timely manner.

Anchor-6
Anchored in the social environment
The values and principles of GF are also lived through the Corporation's commitment to promoting cultural, social and environmental engagement in the local communities. In 2017, around CHF 2 million were spent at the Corporate level on various activities of this kind, and an additional CHF 4.9 million were donated to various societal causes by our locations around the world. The biggest contributions at the Corporate level went to the Paradies Foundation, the Iron Library, the Homberger Foundation, and Clean Water, all of which are presented in detail below.
The Paradies Foundation
The Paradies Foundation was founded in 1975 with the aim of keeping the former Clarissan convent as a cultural heritage site and to using it for functions appropriate to the site's history. The Foundation therefore not only houses important historic collections, but also serves as a training center for GF.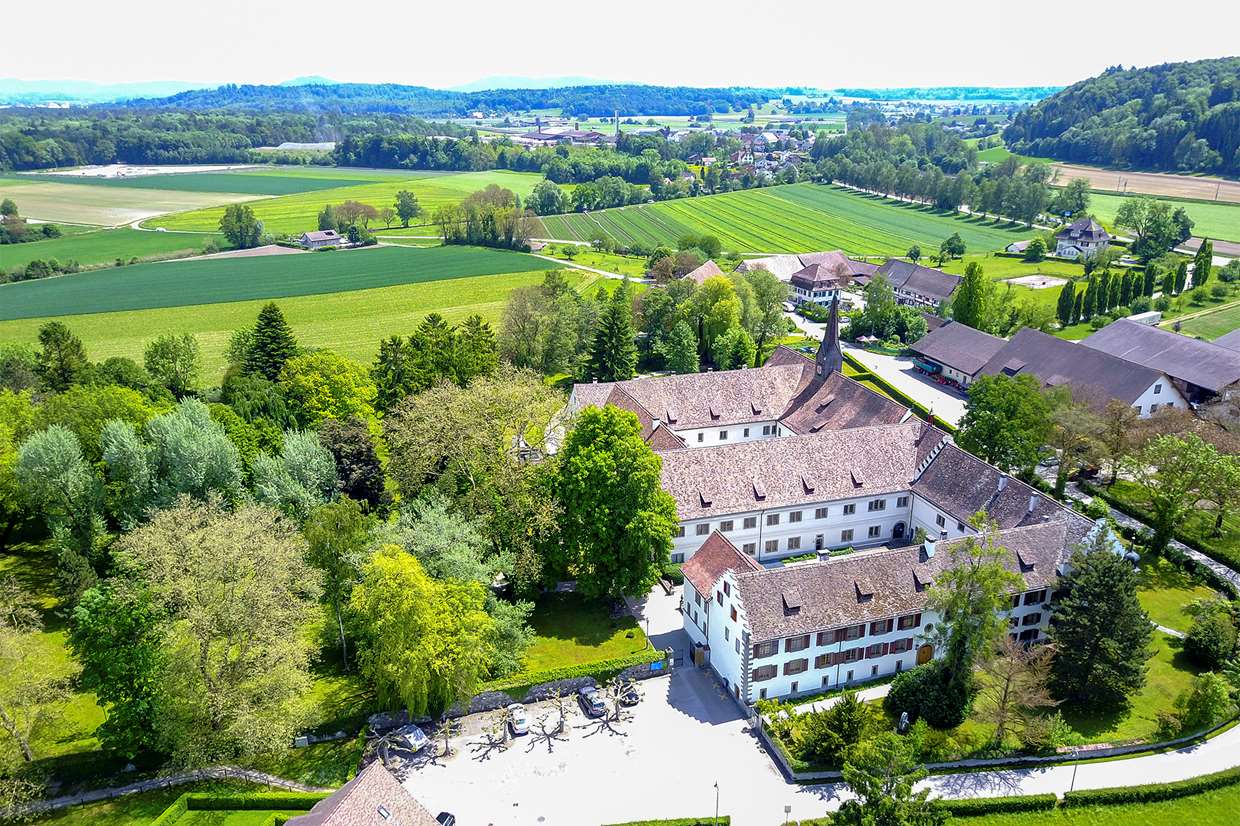 In 2018, GF is celebrating 100 years of owning Klostergut Paradies.
The Iron Library Foundation
The Iron Library Foundation, located in Klostergut Paradies, has the largest private collection of books on the subject of iron. Additionally, the collection includes an extensive selection of books on the subject of plastics, with a specific focus on their history. Together with the Corporate archive, the Iron Library is the center of competence for maintaining GF's historical and cultural heritage. It is open to the public, and visits can be arranged by appointment through the Foundation's website.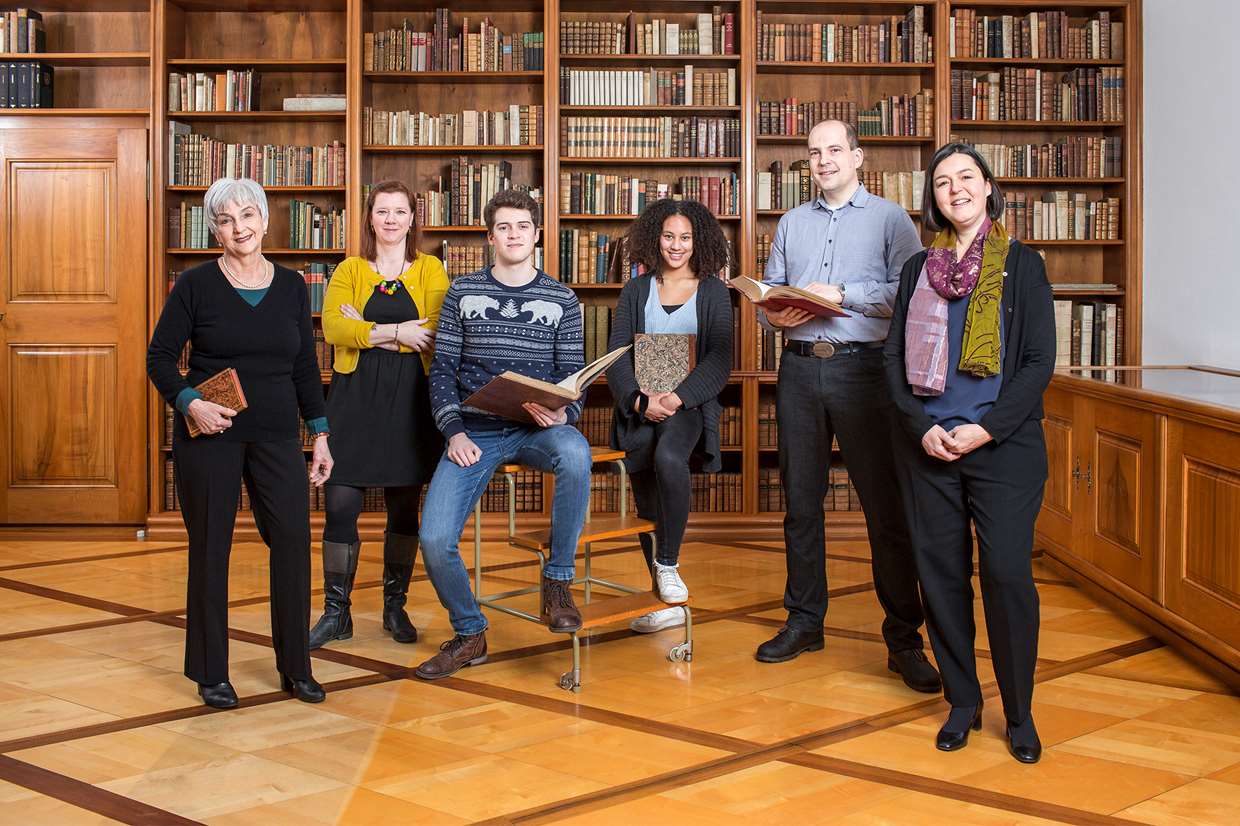 The dedicated team behind the Iron Library Foundation, the largest private collection of books on the subject of iron.
The Homberger Foundation
From its inception in 1927, the Homberger Foundation has borne the name of its founder, the former Honorary Chairman of the Board of Directors and long-standing Managing Director, Ernst Homberger. The Foundation provides financial assistance to the children of employees of Georg Fischer Ltd and its affiliated companies to help them learn a trade or attend a course of further education at polytechnic colleges, universities, or similar institutions. The aim is to provide the beneficiaries with a solid basis for their subsequent career development. Since 2008, the offer of scholarships has been available beyond Schaffhausen to all GF Corporate companies in Switzerland.
Clean Water Foundation
The Board of Directors of Georg Fischer Ltd founded the Clean Water Foundation in 2002, to mark the 200th anniversary of the Corporation. To date, the charitable Foundation has invested over CHF 10 million in more than 140 projects which provide people in the developing world as well as areas hit by catastrophes with sustainable access to drinking water. In 2017, seven new projects13 with contributions amounting to around CHF 470'000 and implemented through partnerships with a number of development organizations, including Caritas Switzerland and Water Mission (USA), were approved by the Foundation's Board.
Sustainable Development Goals
With its activities, GF contributes to the following UN Sustainable Development Goal: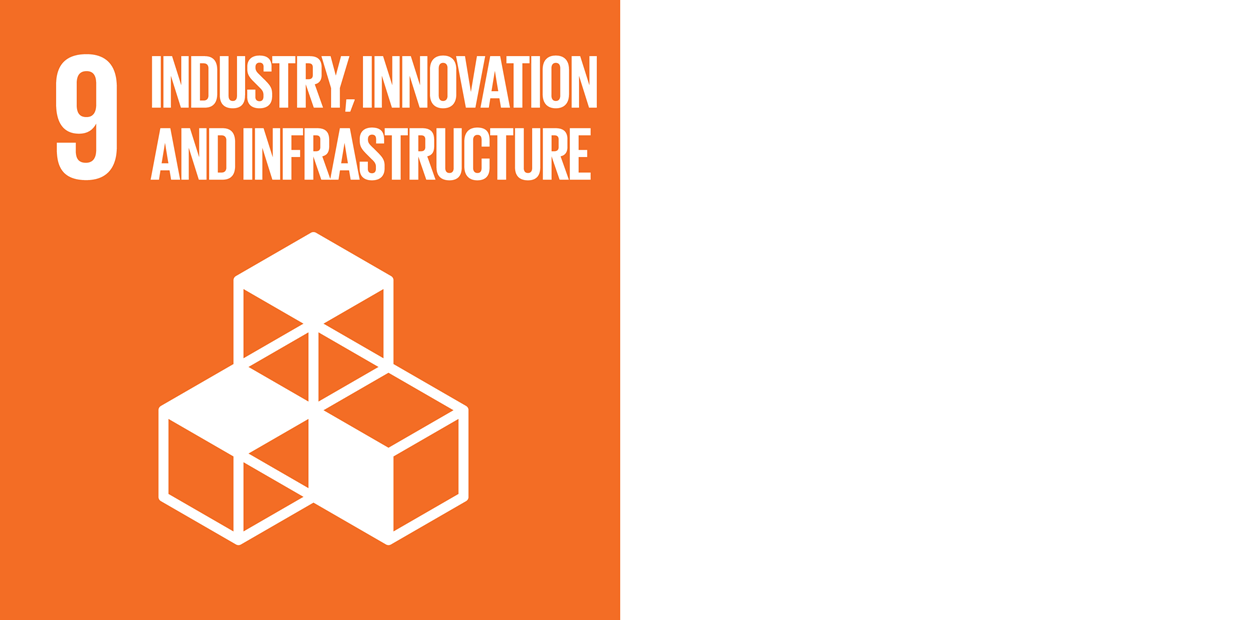 1 Headcount figure.
2 Current local rules and regulations in certain other countries limit our flexibility to adapt employment conditions to expectations.
3 As each country where we operate has a different local cultural and structural starting point in regard to gender balance, we are addressing the necessary improvement potential on an individual market basis.
4 I.e. gender, race, skin color, origin, disability, religion, sexual orientation, political affiliation, familial status, etc.
5 Copyright by the Franklin Covey Corporation. The framework focuses on reinforcing a proactive attitude, outcome-oriented mindset, focus on goals, shared vision, listening and understanding, and on solving problems by celebrating different points of view, as well as the qualities and skills of each individual team member.
6 Stands for "Wissen & Netzwerk" in German (meaning "Knowledge & Network").
7 Details about the Zero Risk campaign, its background, and measures can be found on pages 4045 of the Sustainability Report 2015.
8 The recording of accidents by the sustainability specialists on the divisional level takes place in addition to the existing accident-reporting processes at each location (e.g. to insurance providers, etc.)
9 By the end of March 2018, all employees of the division had been trained.
10 Average for years 2013–2015
11 To reduce the accident rate by 20% from the base rate (calculated as the average for 2013–2015).
12 Average for 2013–2015
13 These projects will help communities in Nepal, Bangladesh, Kenya, China, Mali and Indonesia.